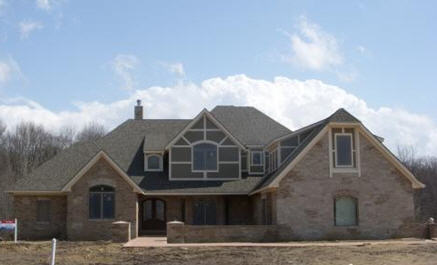 This spec (builder owned) home in Deer Run on South Bend's south side has been on the market since February 2007. It has been reduced in price from $2.3 million to $1.85 million and the builder is offering to throw in a $50,000 pool. Here is the MLS marketing description:
Incredible builder spec in deer hollow on 6 acre lot. Incredible detailing throughout w/numerous built-ins, incredible trim work, incredible ceilings! Main floor all brazilian flooring & ceramic. Incredible master suite-bath with roman steam room/shower,seperate morning areas,screen porch. Granite kitchen w/sub zero fridge – approx 400 sq ft, 2500 sq ft of bsmt finish w/theater area, second kitchen, 5th of 6th bdrm, 5th full bath, family room. Truly one of a kind. Builder offering $50,000 swimming pool allowance w/accepted offer.
It seems to me that the most remarkable thing about this property is a price reduction of half a million dollars, and still no takers. Do you think this is a good deal or was the builder dreaming when he priced this home at $2,300,000 at the beginning of the biggest downturn our market has seen since the early 80's. In today's market, to buy this home at $1,850,000 with $185,000 down payment, the purchaser would need an income of around $450,000 a year assuming no debt besides a home. The payment on a 30-year fixed rate of 6.375 % is $10,387/month before taxes and insurance.
With examples like this how is a consumer supposed to know if they are getting a fair deal. How would you feel if you bought this home a year ago for $2.3 million and your neighbor bought one just like it today for $1.8 million. How do you know what to offer? How do you know what's fair? The best way to develop a negotiating strategy is to:
Assess the current economic situation in the market. Is it a buyer's market, a seller's market, or a balanced market?
Research the development carefully. Is it viable? Is it in demand? Is there current activity?
Find out what comparable homes sold for in the last 18 months, 12 months, 6 months in order to see price trends.
For new construction, determine the sellers financial health if possible. If it's a spec home, have the sub-contractors been paid? Is the lumber bill current? Are there any liens filed on the property
Be willing to walk away from the deal. In today's market the buyer who is willing to walk away from an unreasonable seller holds the power in the transaction. Know the price at which a house stops being a bargain and at which you are willing to move on to the next property.
If you'd like innovative professionals to look out for your interests courteously yet assertively as you buy or sell property in South Bend, Granger or Mishawaka, we'd like the chance to earn your business. Please contact us for a consultation.