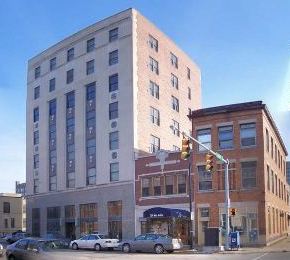 As I've detailed in previous articles, South Bend has a variety of condos. It has  newer units near Notre Dame, and older places with a river setting and affordable condos on the South Side. It now has another choice: upscale and urban. The Colfax  Place Condos, by the Holladay Corporation are unlike anything else in the area.
Holladay is renovating a seven-story elevator building at the intersection of  Colfax and Lafayette. It's a solid location for those who'd like to live near downtown draws such as the Colfax Spa, Chocolate Cafe, Noma and the Morris Civic.
Based on the model units, downtown pioneers who setle in one of these condos won't lack creature comforts. They are available in small, medium and large variations dubbed "Colfax" (1,544 sq ft), "LaSalle" (2,122 sq ft) and "Madison" (3,780 sq ft). They  come with an attractive set of standard features, but can be upped to include perks such as balconies and garage parking.
Colfax Place condos are easily the most luxurious downtown homes in South Bend, and buying one should compare to buying a home in any new development. You pick a model, choose your features and your "lot" -Â  in this case your floor. As with hotels, higher is better, and the units seem to be selling top down. The seventh floor penthouse and a sixth floor LaSalle have been spoken for. After reserving your unit, you'll have to wait for them to sell 50% of the spaces before they begin construction. Reportedly, the condos will be ready Summer 2007.
If you're curious to see one, you might start with the virtual tour on Holladay's site.  If you're like me, you'll find it hard to see past the finishes and decor – neither  of which necessarily represents a condo you would buy. Ideally, you should see it in  real life. You can visit an open house on a Sunday at which point you'll see two  fifth floor models: A formal LaSalle and a Colfax with modern decor.
If you'd like to see a unit on your own schedule, or would like to better understand how the Colfax Place Condos compare to other options in South Bend, contact me:
Nick Molnar
Home Gallery
574-309-3758
nick@realst8.com