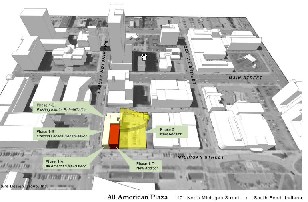 Renovation plans for the building at 101 North Michigan Avenue have been revealed, and they include the expected mix of condominiums, retail and office space. The project is a public-private partnership with city support and in one of the more attractive downtown buildings, two factors which fare well for it. But it will have a good amount of competition.
There are at least seven other recent or planned developments that will feature urban housing options like condos and townhouses:
There may be enough demand to fill them all, consumers may see the differences among them as significant, or it may become a race to the buyers for these projects.
To read more about the plans for the "All American Plaza," start with the local news coverage and press releases – Inside Indiana Business, City of South Bend, South Bend Tribune, and WSBT.