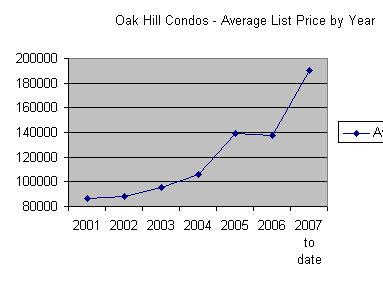 Homes around South Bend aren't normally subject to dramatic market swings. Media stories that report a drop in our median home price reflect a change in the type of house being sold and not a drop in the value of individual homes. Well-maintained homes in desirable areas appreciate slowly and steadily. However, even in this stable setting, I've found a niche market that may qualify as our own bubble – the Oak Hill Condos.
Oak Hill is a development of 102 condos built in 1988 that is occupied by a mix of students, professionals and Notre Dame football fans who hold them for use on game weekends. They are largely unremarkable but well-managed and near Notre Dame. Realtors who have been in the business since Oak Hill was built tell me that you couldn't give the condos away when they were new. Recently though, interest in Oak Hill has shot up and sale prices have spiked along with it.
Currently there are three condos for sale – one listed with a Realtor for 190k, and two being sold by unrepresented sellers asking 170k and 210k. These prices are testing the limits for Oak Hill. There was recently a sale at $184,900 for a well staged unit that raised expectations to the unprecented level now evident. One of them is quite attractive, one has some questionable "bedrooms," and at least one has a tax deadfall awaiting an uniformed buyer.
Oak Hill has benefited by the fact that it is already built while many Notre Dame condos are still under construction, and historically has been moderately priced. Several times a buyer with more cash than time to learn the market has purchased a unit for a greater price than the market would suggest. These buyers chose Oak Hill because it was their only option – a fact which is rapidly changing. Buyers flush with cash will soon switch to one of the ultra-luxury options like Stadium Village or the Colfax Place. Those looking for a nice condo at a moderate price will likely settle at the North Douglas condos which are new construction and larger than Oak Hill and priced in the $130s. Oak Hill sellers hoping to fleece a buyer will end up sitting on their condos while the buyers head to one of the new developments, and the price will float back to the market.
Despite all this, the Oak Hill condos are a better than good housing option if you make an informed purchase. I have a client who will be listing her 2 bedroom, 2 bath unit there soon. She has lived in it for two years, is making significant upgrades to prepare it for sale, and will price it 10-20k below the other Oak Hill condos with signs on their balconies. The buyer will get a great condo at a stable price and she will take a reasonable profit after a quick sale.
If you are looking to buy a Notre Dame condo, know your options. Start by browsing my South Bend Condo Guide, and call or e-mail me when you are ready to discuss your specific situation.
Nick Molnar
Home Gallery
nick@realst8.com
574-309-3758