Price Reduced 5K!
Owner Says Sell.
Price Slashed 40K!!!
Every day I see similar claims made on MLS listing information sheets, property fliers, in newspaper ads and in Home Magazines. You may think they are indicative of good deals but it pays to look more closely.
Careful inspection of the details often reveals homes grossly overpriced to begin with, or a property that has been on and off the market for over a year or more with a series of reductions and increases to create the illusion of big price cuts. Today I came across an interesting listing for a new home in a subdivision on the Northwest side of South Bend. The marketing made it look like a deal but the property history revealed a different story, of repeated and drastic price changes. These cases make me wonder how many people bought homes at inflated prices while thinking they got a deal. These situations are particularly common with higher priced properties. Here are a few examples, along with the property histories:
From the mls remarks: "$40,000 PRICE REDUCTION!!! HURRY, PRICED TO SELL!"
The property history: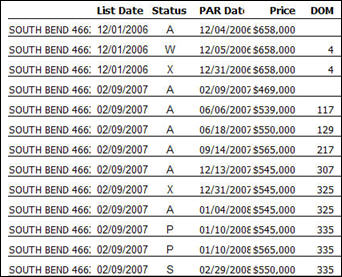 Interesting! This house started out at $658,000 and sold a year later for $550,000. That's a pretty big reduction for a new home. Maybe someone was being greedy at the start?
Here's another.
MLS remarks: "$25,000 BUYER INCENTIVE FROM SELLER! IN ADDITION, SELLER WILL MAKE YOUR FIRST 6 MORTGAGE PAYMENTS, UP TO $3000!"
The property history: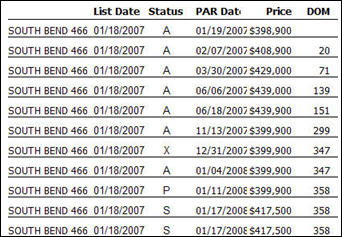 The list price started at $398,000, rose to $439,900 and the house eventually sold for $417,500 after a year on the market.
I wonder how the folks who paid the higher prices a year ago feel today knowing about these price cuts on neighboring homes. Do they impact the values in their neighborhoods? I think so. Obviously, this isn't always the case, but you need to know the facts when you are buying. If your Realtor isn't forthcoming, you should find one that is. Both of the homes in the example above were new homes marketed by a Realtor. The listing agent is working for the builder. Don't ever mistake that fact. If you want representation you must have your own agent. We believe in negotiating fearlessly on the behalf of our clients. Make sure you have an agent that feels the same way.
There are lots of good deals available and many fair deals out there as well. Unfortunately there are also a number of dressed up bad deals waiting for unsuspecting buyers. Do your research, or find someone you trust to do it for you – it pays to be careful with any purchase as significant as that of a house.