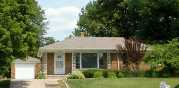 Notre Dame room and board is now $8,730 per year. Divide this by 12 months and you find a monthly price of $727.50. We divide by a full 12 months because though you only live on campus for eight months, room and board does include a meal plan. We'll consider that those two factors cancel each other and remove them from our calculations.
A simple mortgage calculator plugged in with today's rate of 6.70% for a 30-year mortgage reveals you can finance a $110,000 house for $709.81/month (principal and interest). $110,000 will buy you the pictured 3 bedroom 1,161 square foot brick house with a garage.
If you're a student, let this be your first lesson and consider your options. You can share a room with one person and a bath\shower with a whole floor of people. Or, for about the same money, you can live in a house, where you can decorate, have a pet, rent to a roommate, then sell it when you graduate. Now that's the smart thing to do.
As of August 1st, there are 28 properties for sale within one mile of the Golden Dome. You can see their details here, or contact me by e-mail, nick@realst8.com. We can also find affordable and better-than-a-dorm homes near any of the area's other schools: IUSB, Bethel College, St. Mary's College, Holy Cross or Ivy Tech.