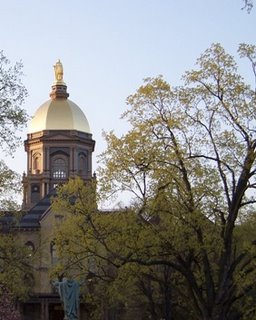 Notre Dame's "Golden Dome" is the third tallest building in South Bend at 69 meters, and is the most recognizable of the tall buildings in the area. It is topped with a statue of the Virgin Mary covered in the same 23 carat gold as the dome.
The building has burned to the ground twice, and was proposed for demolition in 1947 and again in the 1960s. However it received a $58 million renovation in the 1990s and today serves as the University's Main Administration Building.
A University run web-cam broadcasts the dome here.