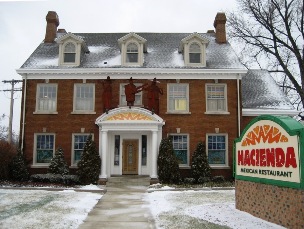 The South Bend Area's staple for Mexican food is Hacienda. They boast multiple locations – 12 in Indiana and Soutwest Michigan – and have either remodeled or rebuilt many of them in the last few years. While the newly clad decor and themes are nice, I prefer the original location in the 100 Center. It opened in 1978 in the Kamm's Brewery Mansion. It has old house charm and several rooms on two levels that allow you to be in a big restaurant without feeling like you're in a big restaurant.
The food is not bad, it's reasonably tasty and inexpensive. I switch back and forth between their chicken fajitas and soft shell taco. The soft shell taco is priced and sized right considering that I always overeat the complimentary chips and salsa. I recommend ordering a large side of their house dressing with the chips. It's a cool ranch that blends well with the hotter salsa. Their margaritas are another big draw: they come frozen in several flavors, or as "make your own" concoctions where you choose the ingredients and they are served in a shaker. Expect a crowded bar and restaurant on any given weekend night.
While Hacienda may not qualify as "authentic Mexican," its reasonably priced entrees, specials, and fun happy-hour atmosphere makes it a great choice.
Address
Hours
Sun-Thu: 11 am – 10 pm
Fri-Sat: 11 am – 11 pm