Here are the March figures from the South Bend Area MLS, which primarily covers South Bend, Mishawaka and Granger properties. Sales are flat from last month and only two condos sold. I've seen a significant increase in inquiries and traffic to this web-site, but that hasn't been reflected in the sales numbers. If you need help interpreting these figures and acting advantageously, or would like to see the data for your sub-market, contact us.
Entire MLS (residential)
Listed today: 2,576 properties / combined list price of $379,727,078
Sold in March: 219 transactions / $22,063,189 in volume
Noteworthy: $22 million in volume is the lowest sales figure in March for the online data set available to Realtors, going back to 2002.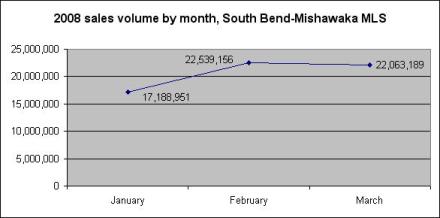 Single Family Houses
Listed today: 2,338 – up slightly compared to to February 29th's 2,246
Sold in March: 209 – nearly identical to February's 206
Noteworthy: Despite the changing mortgage industry, conventional loans are still the most common way to buy a house. Of the 209 sales in this category, 94 used conventional financing, 76 were cash deals, 30 were FHA loans, 6 were VA loans, and 3 used other financing.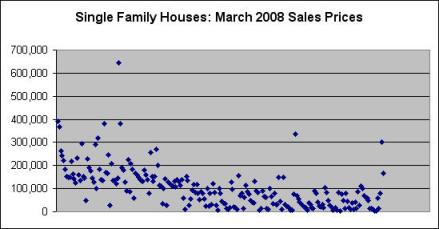 Townhouses/Condos/Villas
Listed today: 238 – up from 189 on February 29th. This number is somewhat inflated by the inclusion of 27 Main Street Condos that seem to be in the mls as something of a market test.
Sold in March: 10 – down from 12 in February
Noteworthy: Just two of the ten March 2008 sales in this category were condos, one at Irish Crossings and one at Oak Hill. The other eight were villas.