This month we are dropping the average prices for scatter graphs that show more information more quickly. We are also grouping condos, villas and townhouses. As always, feedback on the numbers and format is appreciated in the comments.
Entire MLS (residential)
Listed today: 2,440 properties / combined list price of $338,078,129
Sold in February: 218 transactions / $22,539,156 in volume
Noteworthy: This month was more active than last month's $17,188,951 in sales, but just 68% of February 2007's $32,908,117. More information on previous years here.
Single Family Houses
Listed today: 2,246 – nearly identical to January 31st's 2,234
Sold in February: 206 – up from 174 in January
Noteworthy: These numbers inlcude 64 cash sales under $50,000. That's 31% of all February single family home sales.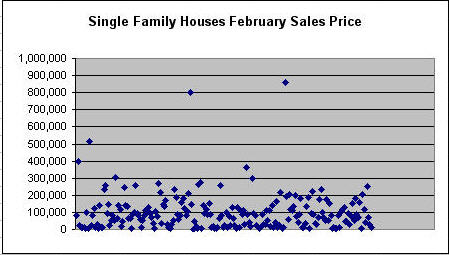 Townhouses/Condos/Villas
Listed today: 189 – up a bit from 180 on January 31st
Sold in February: 12 – up from 7 in January
Noteworthy: This month saw the first sale in Oak Hill since 9/13/07, for 90% of asking price. With a second unit pending in the complex it could be a sign that the impasse is over with sellers starting to realign their prices to the market and buyers conceding more value in a walk-to-Notre-Dame location.