South Bend Area Sales Statistics
After the two months with the lowest numbers in recent history, sale volume for the Greater South Bend – Mishawaka MLS is up for March 2009. January and February saw sales of a bit over $11 million each month. March brought 191 sales and $17.17 million in volume. 
The lowest price sale in March was $4,500 and the most expensive $450,000. 85 sales were under $50,000 and 6 were over $250,000. Here's a graph of the closing price of every sale.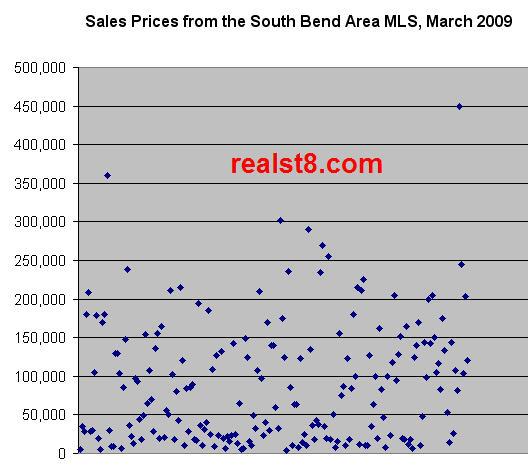 Notre Dame Condos
Just one condo near Notre Dame sold in March. It was a furnished second-story Jamison condo with two bedrooms and a loft. It closed at $127,500 despite similar condos selling around $160,000 in 2007 and 2008. 
None of the higher price, new condos or townhomes appear to have closed a sale in March. Several builders that target the Notre Dame market are raising commissions and offering upgrades to buyers in an attempt to spur sales.
South Bend's March 2009 Real Estate Sales in Context 
March sales were up considerably from last month, but put into larger context the numbers are still far lower than anything we've seen as far back as our MLS electronic records reach. Below is a striking visual demonstration of where we've been and where we are.
This isn't a chart of home values, it's more of a speedometer for the market. I'll leave pricing and value for another post. But the speed, the volume, the number of sales is down markedly from the past.