Lots of listings are expiring, six months after Spring contracts were signed. Despite this, there are still 2,733 residential properties for sale in the area's mls with an asking price just over 408 million dollars.
In September, there were 274 sales, for $30,233,646. Check the scatter graph for the price breakdown.
There were just a handful of condo sales:
Two at Irish Crossings, for $415,941 and $350,859
Two at The Forest in Mishawaka, each for $170,000
Two at Woodbridge, for $97,200 and $81,900
One at Somers Square, for $128,000
Nothing has sold in Oak Hill since June despite 8 listings now for sale (after one expired today). They are priced $164,500 to $229,500, clustered around $175,000. Oak Hill sellers, it looks like it's time to drop your prices.
Overall, sales for the year remain slow compared to years past. However September 2008's sales volume was about 8% less than September 2007's (see the comments for a note on an earlier version of this article with a mispublication). Here's the graph for sales volume since September 2001: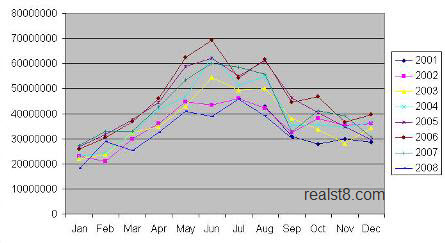 As always, if you need greater insight into the market, or specific real estate services, don't hesitate to contact us. There is more to know than we can fit in any post, and we'd be pleased to speak with you.