There are 272 closed sales for October 2009 recorded in the South Bend Area MLS totaling about $28.79 million in sales volume.
That's a bit higher than September 2009, which had 238 sales that totaled about $24.97 million. Such an increase is not uncommon – sales have risen from September to October five of the last nine years.  But the sales volume for October 2009 is higher than the total for October 2001. That is noteworthy as it's the first month in 2009 where sales surpassed those of any previous year since 2001.  Check the long term graph of monthly sales volume below for more detail.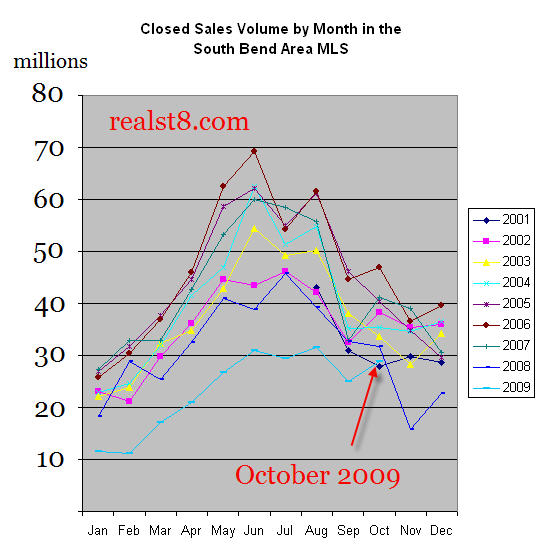 The high price sale was $700,000 on a builder sold home in Granger's Northbrook Shores. It was first listed for $895,000 but priced at $850,000 at the time of sale.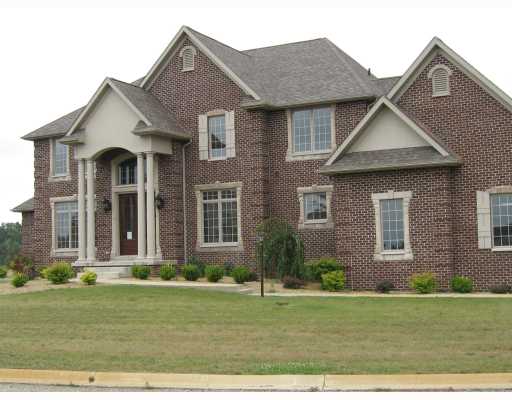 The second and third most costly sales were both in Granger's Covington Shores:
$515,000 for 14764 Heatherton, listed in July 2009 for $550,000.
$475,000 for 51730 Harborough, listed August 2008 for $539,000 and priced at $499,900 at the time of sale.
There were 69 sales at or under $50,000 and the low price sale was $5,500.
Check the scatter graph of the price of every sale in October 2009 below for a better sense of the market.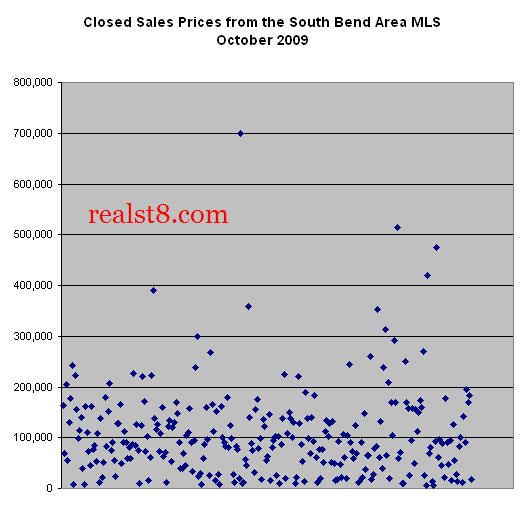 Financing
FHA loans remain the most common means of financing, with more than one third of the sales. It's followed closely by cash sales with just under one third of the sales, then by conventional mortgage with about 1/4th of the sales. VA loans and other types of financing such as land contract sales each account for about 3% of the sales.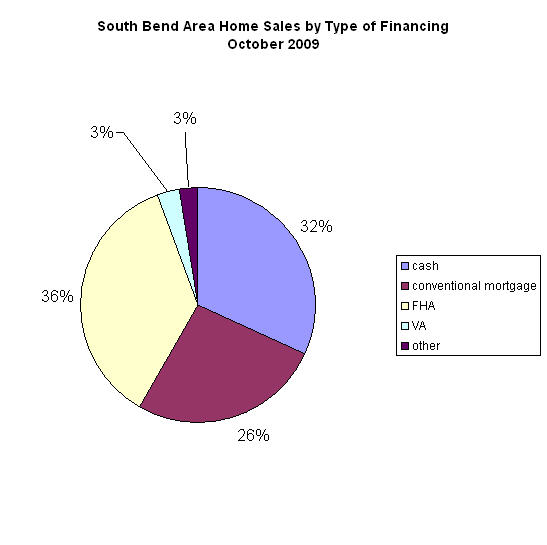 Condos and Townhouses
In October, existing condos sold in
The Forest – $162,500 on a $174,900 list price
Oak Hill – $150,000 on a $158,400 list price
Stonebridge – $85,000 with $850 in concessions on a $85,000 list price
Berkley Square –  $52,000 on a $54,900 list price
Topsfield – $46,000 with $4,500 in concessions on a $43,900 list price
I haven't seen any sales of new condos this month, though Kite Realty reports 21 signed contracts for the townhomes they are building at Eddy Commons, "Champions Way." They start above $370,000.
New Construction
A commenter recently asked if I could break out new construction sales in the monthly reports. Builders don't all record sales in the MLS (which only has info on sales that were handled by a Realtor), but I do read comments and try to respond. So take this with a caution that there may be other sales, but from MLS data it looks like there were nine homes sold by builders in October:
Cornerstone Builders sold 50695 Brookside Drive at $700,000
Classic Homes sold 51800 Bittersweet at $175,000
Weiss Homes sold six homes at $204,525, $184,151, $170,360, $165,000, $161,660, and $138,780
Portage Realty Corp sold 18221 Courtland at $183,482 with $5,000 in concessions