We are halfway through 2013.  And sales are "up" compared with recent years. But whether you're a buyer waiting for lower prices or a seller hoping for a return to 2006, don't break out the champagne just yet. Long term trends aren't clear and it will likely be a bumpy ride for some time yet: interest rates have spiked,  investors-banks-government agencies-and-the media are distorting markets, and many homeowners still owe more on property than they could clear if they had to sell today. My advice is unchanged: Be smart, do your homework, understand the niche market and plan for multiple potentialities.
Here are the figures from the Greater South Bend-Mishawaka Area MLS:
March: 251 closed sales, volume of ~ $24.9 million
April: 279 closed sales, volume of ~$32.6 million (edited from previously reported numbers due to late input of some closed sales)
May: 334 closed sales, volume of ~$43.8 million
June: 319 closed sales, volume of ~$45.3 million
Real estate sales volume by month
January 2001 – June 30, 2013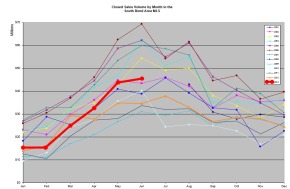 Only January 2010 – June 30, 2013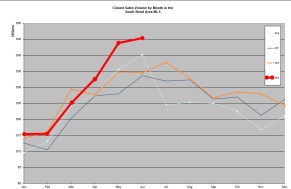 Every sale recorded in the Greater South Bend – Mishawaka MLS for March, April, May and June 2013:
Sales at all prices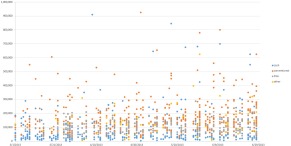 Sales up to $300k
(this includes greater than 95% of closed sales)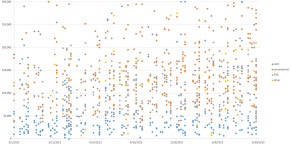 These are useful statistics to get an idea of the overall market in and near South Bend. But before you buy be sure you drill down to a tighter data set.
Knowing that sales are up in the South Bend area is not enough to be an informed player in the market. You need to know what has happened within a half a mile, on the next block, and in the house two doors down. And you should know the trends and why that part of the larger market is performing well or poorly. Then you can make smart decisions. Call me if you want a more specific analysis.