"Real estate sales are up!",  "The Spring Market has arrived!",  "The Economy is on track for a recovery!" Every year about this time I see these breathless headlines, roll my eyes, and run through the news story or article cataloging what significant details the author missed – the change to tax policy or qualified mortgages, that foreclosures aren't down because fewer homeowners are delinquent but are on hold while banks sort out the paperwork –  and the lack of or misrepresentation of the source data. But this year, in this market, sales spiked considerably in March, and it seems to be a genuine bounce.
In March 2012, in the Greater South Bend – Mishawaka MLS (search it here), there are records for 273 sales that add up to about $29.2 million. For comparison, March 2011 records show 201 sales for about $20.4 million. Those are increases of about 36% by number and 43% by dollars. They are more in line with what April/May sales were last year. So the question becomes "Is this the start of a more lively market than the past few years or could it be that the regular Spring bounce has started earlier this year since the weather broker sooner?" It's going to take a few months to know.  Remember that it is not smart to base major financial decisions on one month's data.
Here is the long term graph showing sales volume month by month back to 2001: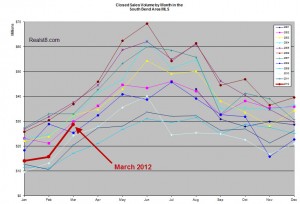 It was a good month for high end homes within the city of South Bend. The most expensive sales in St. Joseph County generally tend to be in Granger, with a few high dollar sales in Mishawaka, South Bend, or other areas rounding out the mix. But in March the the 3 highest dollar sales, and 4 of the 5 priciest homes sold were in South Bend, in Deer Run, on Notre Dame Avenue, and in Ridgedale/Twyckenham Hills:
Here are all the March 2012 sales prices at a glance: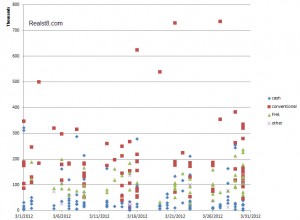 March saw 5  sales close at $500k+ bringing the number of sales over the half million dollar point to 9 for the first quarter of 2012. In the first quarter of 2011 there was just one sale at this price point and in 2010 there were 3.
More sales and more high price sales is a good sign for sellers. But it's too early to draw conclusions from this as there are still many problems impacting housing markets. I'll stop at the statistics here. If you want my predictions or advice, you'll have to call me to talk.