The year limped to a close in regards to real estate. Here's the report on sales through the South Bend Area MLS.
223 sales closed, with a combined total of $22,610,122. That is higher than last month's near $16 million in sales, but down from about $30.5 million in December 2007. Here are the final sales prices of all 223 transactions.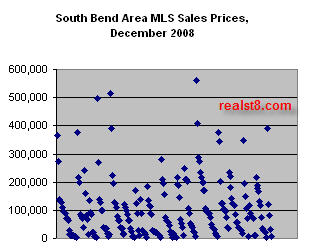 The highest price sale was in Granger's Covington Shores, where 14301 Parkridge Drive sold for $560,000. The sellers listed it in February for $763,500 and reduced it bit by bit until the sale. 249 days on the market and about a 25% reduction from their original price.
The lowest priced sale was in South Bend, at 1345 College. It sold for $3,000 after 77 days on the market. Since it was listed for $6,000, the sellers got 50% of their asking price.
Condo-wise, things continue to be extremely slow. One condo sold, in the North Shore Club. It was a 1,000 square foot model with 1 bedroom and 1 bath. The sellers listed it in January for $89,900 and it went for $76,000. That means it sold at a loss for the sellers who seem to have paid $82,000 for it in 2005.
And, a New Year's gift to all you stats fiends, sales volume from the South Bend MLS by month, 2002-2008. Click on the thumbnail for a larger image.
Â
If you need more info,
If you have a question,
Or you just need to hire the best Realtors in South Bend,
call 574-217-4770 or e-mail nick@realst8.com .