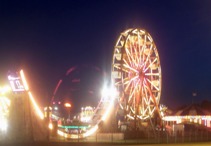 The annual St. Joseph County 4-H fair is underway. It began yesterday with a float parade and livestock show. Today it adds a carnival's triple threat of rides, games and elephant ears. The weeklong fair features a Frank Sinatra impersonator, a Beatles tribute band, a magic show and a concert by Tracy Lawrence. The fairgrounds are on Jackson Road between Ironwood and York. Admission is $6.00. Check here for the event lineup.
The Four Hs, if you wondered, stand for "Heart, Head, Hands, and Health." The organization is sponsored by an extension of the USDA and was originally designed to strengthen the connection between public school and rural life. The Hs are taken from the 4H pledge:
I pledge
My head to clearer thinking,
My heart to greater loyalty,
My hands to larger service, and
My health to better living,
For my club, my community, my country, and my world.
You can learn more about 4-H programs here, or just enjoy the fair.