WNDU reporter Stephanie Stang put together a feature story on new condo construction in South Bend and Mishawaka that aired December 9th and 10th.  Its not a primer on the condo market, but does introduce the topic to a general audience.
The four minute story includes interviews with condo owner Jim Olson, Riverwalk Townhomes' John Piraccini, Mishawaka mayor Jeff Rea, American Trust Place's Brad Toothaker and with me.
Development boosters may think the tone too downbeat; people predicting economic calamities will think it too hopeful, but I think  does a fair job introducing a complex issue without making guesses about an uncertain future.
Here is a link to the video: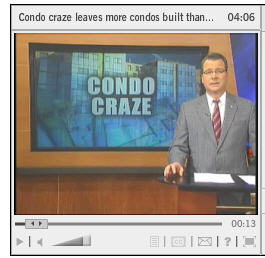 and for more details on the South Bend condo market, here is a link to the 52 articles about condos on the South Bend Area Real Estate Blog going back to May of 2006.