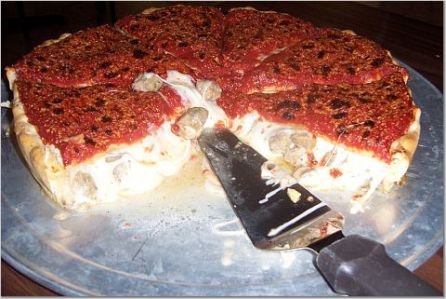 It may have been perfected in Chicago, but chefs all over the world attempt to create their perfect version of the deep dish pizza. Our area has two that I recently put to a challenge. May the best 'za win.
Giannetto's is located in the historic 100 Center plaza. A Friday night rush hour visit pleasantly surprised us with only a 5 minute wait for a table for two. The dungeon-like interior is interesting and fun. You can't escape the feeling of being inside a barrel with its curved ceiling and walls. The unique interior still allows for larger parties and has a family atmosphere though a bit on the dark side. Giannetto's claims to be the first to introduce deep dish pizza to the Michiana area and has created a solid effort. It features a sweeter sauce with slightly soggy crust but was overall flavorful.
The Rathskellar started in the great location where Giannetto's is now. They closed there and reopened later on Logan Street near Town & Country. The ambiance at the new Rathskellar location isn't anything to write home about. Walls are covered with sports memorabilia, beer ads, and TV screens. They do have a great game room for kids to entertain themselves while waiting patiently for that slow cooking deep dish pie. They also have a decent salad bar and patrons ranged from couples to children's birthday parties. Where they did put their effort was the delectable deep dish. The cheese went on forever and the seasonings and crust were perfect – worth every minute of the wait.
With either restaurant, I'd suggest calling ahead with your order to cut down on the long wait for your pie. And don't shy from ordering a large so you can bring home the leftovers. Both were great heated up the next day.
In a showdown of the interior's visual appeal and uniqueness, Giannetto's easily defeats Rathskellar with a knockout. However, with taste buds in the ring, the Rathskellar takes the belt – skimping on interior looks and keeping to the basics of tummy satisfaction.
The Rathskellar
401 N Hickory Rd
South Bend, IN 46615
574-233-0300
Giannettos
100 N Center St
Mishawaka, IN 46544
574-254-9177