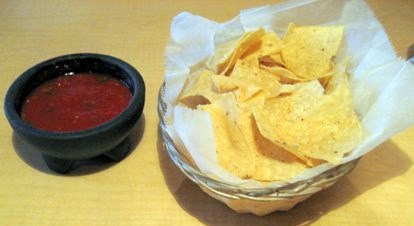 Entering
La Esperanza
(Spanish for "hope"), you are greeted with cheerful decor, festive Mexican music and hosts who seem to speak English as a second language. The menus and signs boast "authentic Mexican" food, a phrase that has often puzzled me. After all, should't authentic Mexican food have to be from Mexico? I searched Google but it didn't completely help the case. Loosely, it seems that to claim to be "authentic Mexican," your food can't have been Americanized with cheese and other non traditional ingredients. Strictly, can only contain ingredients available to native Mexicans. Those ingredients include corn, tomatoes, goat and fish. While La Esperanza certainly goes beyond corn, tomatoes, goat and fish, they do edge towards my newly found understanding of authentic or non-Americanized food.
My party of two and a half (it included our 15 month old son) enjoyed the chips and salsa. Seconds and thirds were ordered and devoured! We had the chicken fajitas and beef enchiladas, and found both a bit on the bland side. However once they were spiced and sauced up with salsa and sour cream they were quite good. But if you love cheese like I do, you may be surprised to find the fajitas served sans cheese. You should consider doing your tummy (but not your arteries) a favor by ordering a side of that. It seems I like to Americanize my Mexican food a bit after all.
La Esperanza does have a children's menu with items at approx. $4-5. On the regular mendu, sandwiches run about $6 and dinners $8-11. The cheapest a-la-carte item rings in at $1.99 for a taco while the most expensive menu item was seafood fajitas at $10.75. Our meal came in just under $30 with two dinners, a kid's meal and tip. Not out of line for today's restaurants.
I've enjoyed several decent meals at La Esperanza and will go back for more. But the draw for me is certainly the chips and salsa. Enjoy!
Address
Read the South Bend Area Blog's reviews of other Mexican restaurants Hacienda and Mazatlan, or scan the reviews of all the restaurants we've highlighted to date, 13 and counting.