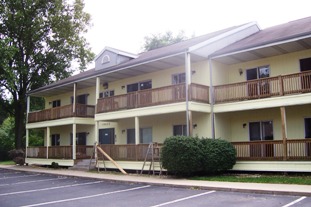 ***update 5/4/09***  
This article was written 8-30-06. Since that time the Stadium Club project has reverted to rental apartments. I've altered the title of this post, originally Stadium Club the Newest Condos Near Notre Dame, at the request of the property owner.
Work is beginning on the Stadium Club's transformation from apartment to condo. The multi-unit buildings have been apartments for years but were originally intended for condominium use. A recent increase in demand for South Bend condos has spurred their conversion.
The front building is now being rehabbed for use as condos, and the property owners reportedly plan to have the apartment to condo conversion finished for every building in the complex within two years.
Their very simple Web-site reports the 2 bedroom, 2 bath 1,250 square foot units all have in-unit washer/dryers and balconies and the second floor units also offer cathedral ceilings. Nice features, but the true draw of these units will remain their walk-to-Notre Dame location.
The rentals are running $950 – $1,150 / month and converted condos will list for about $130,000.