When I started in real estate, a smart Realtor about to leave for another field waved a sheaf of MLS printouts – the pages that detail square feet, price, etc. and said "We're nothing without these." She may have been joking, but she was on to something.
The MLS is a great resource. Hundreds of Realtors feed information on sales and for sale homes into it, and it makes it simple to search most of the homes for sale and to find the ones that fit your criteria. It is what you search when you click on "search homes" in the sidebar on the right side of your screen. The MLS also enables Realtors to see past sales prices and determine value. Ultimately it eases real estate sales and has become the primary source of property information in the market.
But there are some sales that never hit the MLS. For-Sale-By-Owner Homes aren't in it, and some new construction isn't input either. When a few sales aren't in the MLS but many are, it doesn't usually degrade the analysis of those depending on it. But when the bulk of a market sells outside the MLS, any Realtor that depends on it solely for info won't really know what is happening. Unless they visit the neighborhoods, talk to buyers, sellers and builders, and search public records, they might miss most of the action and never know it.
Condos and townhouses near Notre Dame are one such market, especially in the new and newer developments like Champion's Way at Eddy Street Commons and Ivy Quad. Developers are not entering sales information into the MLS and many won't give clear answers when asked about sales prices.
If you check only the MLS, it looks like there were 24 condo or townhouse sales in the 15 developments that I consider the Notre Dame market. But I found 68 sales by looking at the deeds recorded with the county – only one third of the sales are in the MLS. The situation is even more extreme in the newer complexes. There are 7 sales in the MLS but I found 44 by checking deeds – just 16% of the sales are in the MLS.
It's quick and easy to search the MLS for sales data, and for many neighborhoods that's enough to yield good results. But it's slow and tricky to learn a market that doesn't report its sales in the MLS and it takes time. Here are my files on Notre Dame condos/townhouses as I was transferring them into Excel recently.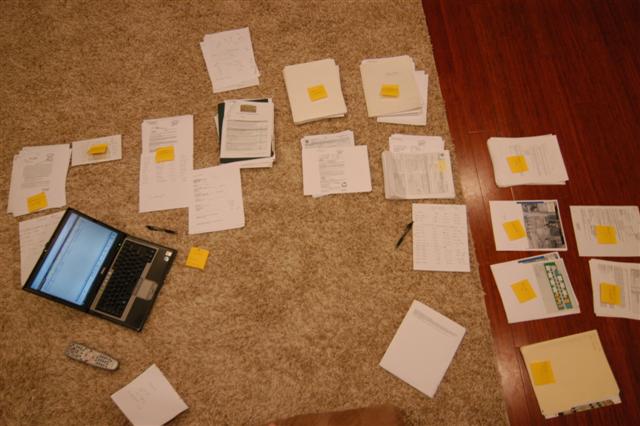 They came from the MLS, county records, visiting the complexes, talking to the builders and people who bought there. And I'm constantly working to keep them current and accurate as more sales occur, developers change floor plans and delivery schedules, and some projects even change hands midstream. If you've got an opinion to share or a question to ask about any of these communities, call or e-mail me.  I want to talk to you.  Not to sell you anything or put you on a spam list, but to hear what you think and to better understand this under-reported market.
I'll share these files and profile the progress and sales at different development projects in later posts, but let's start simple, here are the number of sales that closed at each complex in 2010.
15 sales at Ivy Quad
12 sales at Stonebridge
10 sales at Champions Way at Eddy Street Commons
6 sales at Woodbridge
6 sales at North Shore Club
5 sales at Dublin Village
4 sales at Irish Crossings
4 sales at Oak Hill
2 sales at New London Lake
1 sale at Stadium Village
1 sale at Keenan Court
1 sale at North Douglas
1 sale at Jamison
no sales at River Point
no sales at Wexford Place