Eddy Street Commons is the epicenter of development near Notre Dame:
It's the largest and most ambitious development with restaurants, retail, offices, apartments, townhomes and condos.
It's in the location most tied in with the campus,  Eddy Street runs through the university and the development.
It's backed by the biggest players: Notre Dame supplied the land and participates in marketing the project, the city of South Bend removed the ash that had been dumped on the site and built a parking garage, Kite Realty of Indianapolis led the development efforts.
Housing at Eddy Street Commons
And though the site plan contains four types of residences, the only ways to live at Eddy Street Commons now are to lease an apartment or buy at the first housing project being built, Champions Way.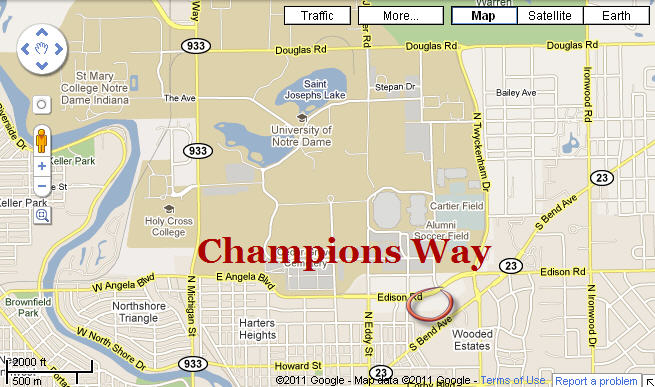 Champions Way consists of 62 units in 9 buildings. It fronts to Angela Blvd and wraps around a small pond with a footbridge.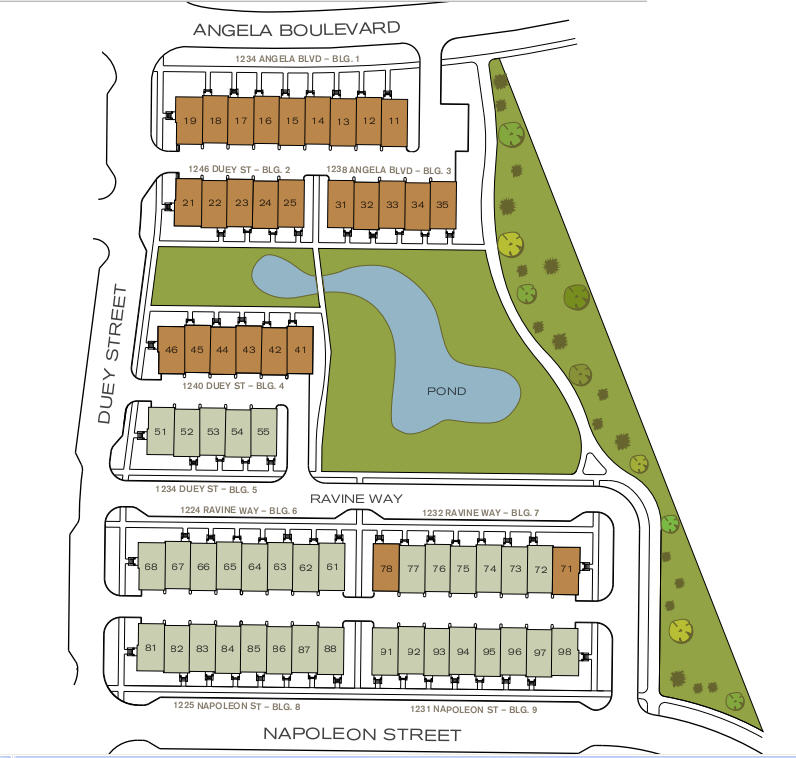 Here are a few unretouched photos I took on January 3rd, 2011: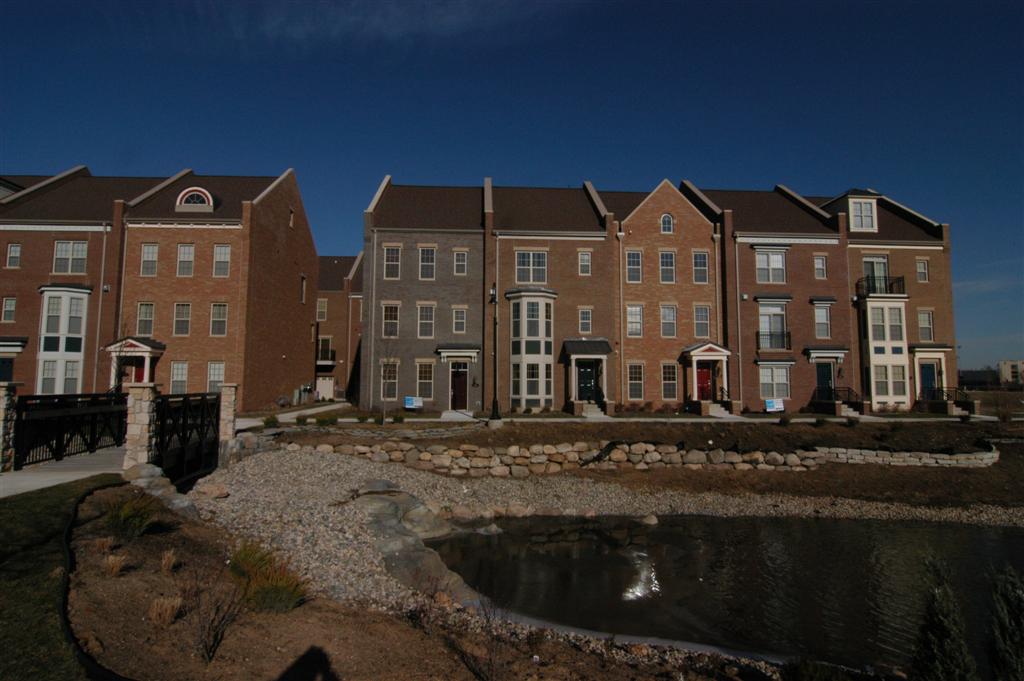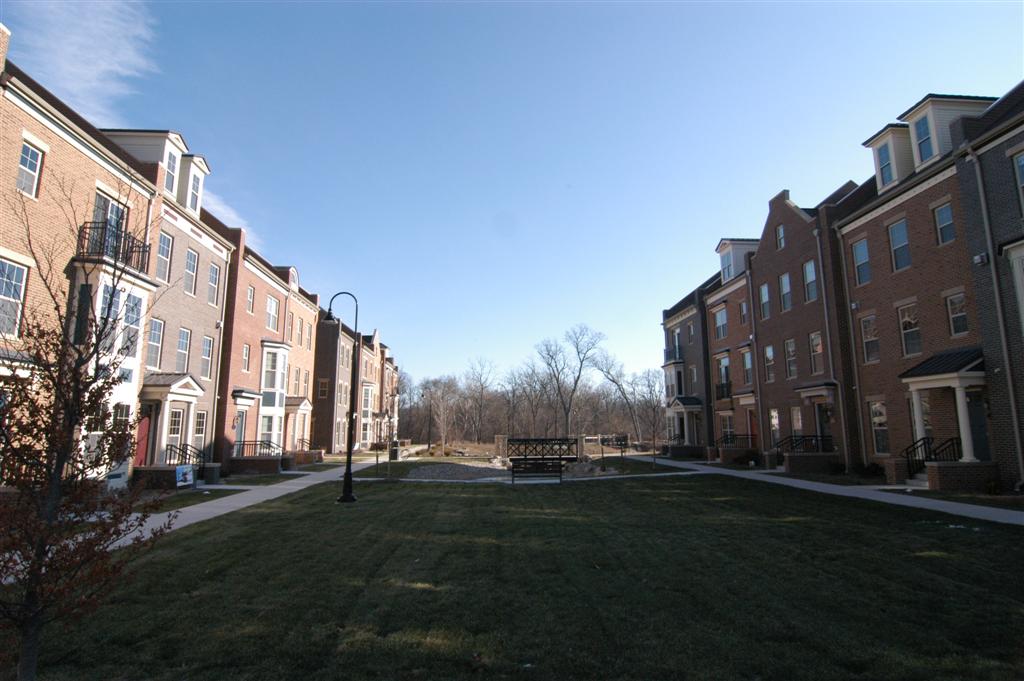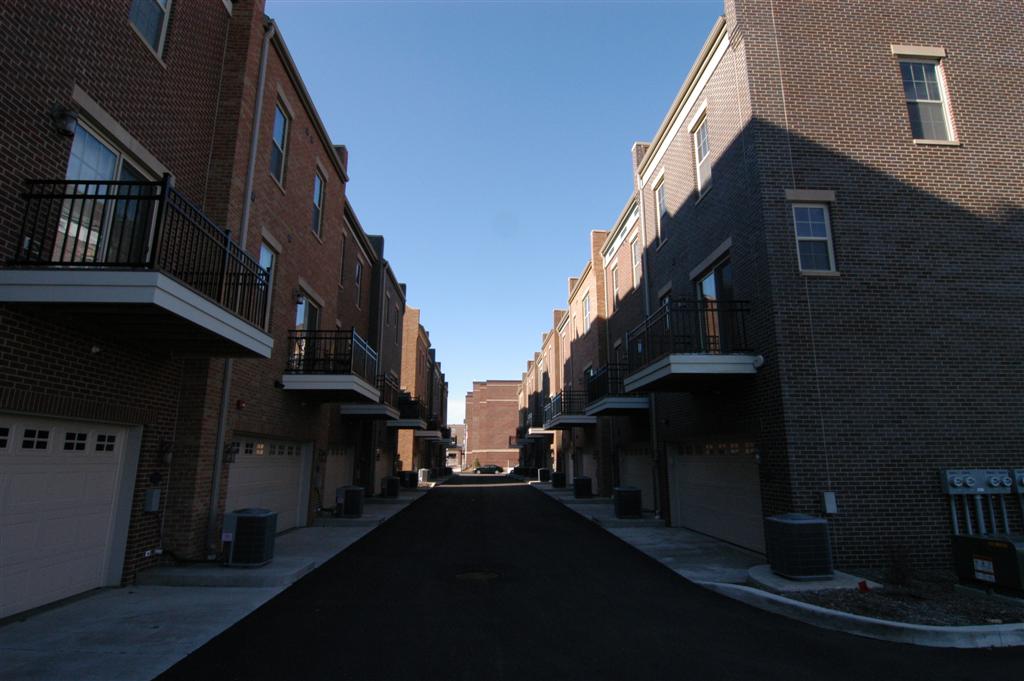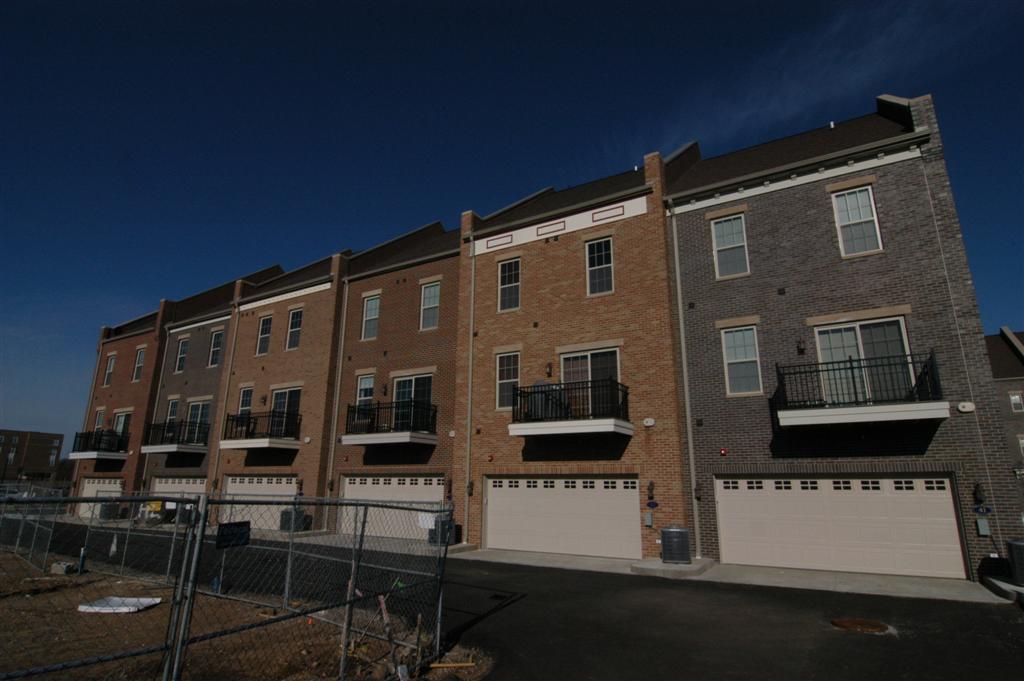 And here are a few more photos.
Sales at Champions Way
Notre Dame bought the first building of 9 units fronting to Angela. One is currently used as the sales model. The others are rented as transitional housing to visiting professors, coaches, etc. I was quoted rent for University employees to be about $2,500/month + utilities.
The 16 units in buildings 2, 3 and 4 are sold. According to the developers, 15 of the 16 units are complete and have been delivered to the buyers and the 16th will close in February. I was able to locate disclosures for 10 of the sales in the county records:
building 2 / 1246 Duey
unit 22, 12/30/2010. $460,917.18 / personal property$15,352
unit 23, 10/1/2010. $448,770.
unit 24, 6/29/2010. $404,232.85 /personal property $55,044
unit 25, 6/16/2010.  $460,639.57 / personal property $4,225
building 3 / 1238 Angela
unit 31, 6/11/2010. $472,446 /personal property $4,900
unit 32, 7/19/2010. $426,983 / personal property$8,366
unit 33, 5/14/2010. $712,102.44 / personal property $23,000
unit 34, 5/7/2010. $443,785 / personal property $3,500
unit 35, 5/20/2010. $481,016 / personal property $3,000
building 4 / 1240 Duey
unit 41, 9/24/2010. $448,205.13 / personal property $4,225
That's 10 verified sales for not quite $5 million. Include the 9 units Notre Dame bought and it's 19 of 62 total units, or ~31% of the project. Use the developers figures of 15+9 and you get 24 sold, or ~39% of the project complete.
Champions Way and Other Communities Near Notre Dame
I believe Champions Way has the highest average sales price of the new developments near Notre Dame, falling in the mid $400s. (Stadium Village possibly has a higher average sales price at this point, but their numbers are skewed by the low number of sales and a single high price sale that was  really two combined units). For that premium, you get a prime location, units that each have a different look/style than those next to them, and of course many options and upgrades. What you lose at Champions Way compared to other communities at the same price is outdoor space (size of the patio/sunroom/deck), a few parking spaces, and some square footage.
Champions Way is the hot development now. That may change when Eddy Street Commons begins construction on the condos that will wrap the garage or other housing options. Look past that temporary excitement and compare the communities on their features. Champions Way has some compelling advantages. And it falls short of its competition in other areas. It may be the best fit for your needs – it depends on the intended use of your ND home. What's best for an investment isn't necessarily the same as what's best for occasional use, and that isn't the same as what's best to live in full-time. Compare your options and shop smart. Call me if you want help.