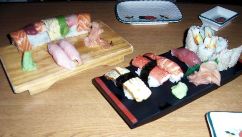 There's no restaurant scene so stylish as sushi. There's no food more misunderstood. And there may be no cuisine more under-represented in South Bend. The Toyo Grill is working to change that. It's comfortable if not stylish and covers the expected territory for a sushi place. Next to the more crowded Bonefish Grill, Toyo is a semi-secret spot for sensational seafood. Don't expect a Chicago/New York/san Francisco club-scene setting, but do expect solid sushi backed by other Japanese standards like tempura and several Korean favorites that draw upon chef Eun Soo Oh's background.
If you are a sushi expert, head to this restaurant and you'll do fine. If you are new to the cuisine, you can order a sampler like the visually great and taste-wise solid "Rainbow Platter." But if you like sushi but are tentative about it, order by color: Toyo's yellow tail and blue fin are delicious. If you have another favorite it's a safe bet they do it better than any other place in town. If you order enough, about six rolls worth, it will be delivered on a bridge or ship-themed platter that will gather second glances from everyone in the restaurant.
If you've got a taste for sushi or would like to try it, you won't go wrong at Toyo. It can't match the vibe more expensive restaurants in larger cities, but it delivers solid meals at mid-level prices. A couple can get out of there for $30 if they order samplers and drink water, but if you want to choose your pieces and drink sake or wine, the tab will be closer to $100 for a couple. Perhaps not an everynight meal, but not unreasonable for appetizers, sushi, sake and wine. One warning, the service can run quite slow, so it's best to go when you aren't pressed for time.
Address
620 W Edison #106
Mishawaka, IN 46545
574-254-9120
Hours
Mon-Thur: 5-9
Friday: 5-9:30
Saturday: 4-9
Sunday: 4-9:30