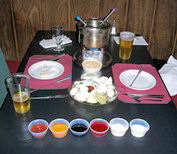 The Fondue! (formerly The Fondue Parlor) is set in one of the 100 Center's renovated factory-type buildings and offers seating options ranging from booths to quaint "two-tops" to tables that can be moved together for the largest of parties.
Our meal started with a typical salad followed by an appetizer that was tastier than one might imagine – hot cheese fondue and bread chunks. The cheese was a blend of several kinds that worked very well together and complemented the dense breads used for dipping. We enjoyed the yummy cheese and watched as the restaurant slowly but continually filled up.
Once the hot oil for our main course arrived, it was all work and no talk. We busily loaded up our fondue forks with meat, fish, and veggie selections and drowned them in batter before sizzling away in the oil. Each round of our main course took only a few minutes in the oil and once one round was ready, we quickly loaded up another fork for frying. It was an orchestrated balance of loading, frying, and enjoying. We had 6 yummy sauces for dipping and laughed about how our food preparation seemed like serious business yet really fun. The hot oil and sterno flame beneath it are the reason for the seriousness and show you it's no place for younger children.
Once we finished the small yet surprisingly filling plate of our main course, we were united with what I call the bowl from heaven! Any woman's dream – a boat of warmed chocolate with ripe fruits to dip in. The arrival of it was even more fun with the waiter lighting the top of the chocolate with liqueur which stayed lit long enough to roast a quick marshmallow. My only complaint with the desert, is that they didn't include s straw for the remaining chocolate at the bottom of the bowl!
The Fondue! is pricey (at per person plates of $15.95 for veggies and up to $26.95 for meat and seafood combinations). But you can expect rather decent tasting food and entertainment all in one. The location is perfect for an after dinner stroll down Mishawaka 's developing River Walk where you can attempt to burn off some of those chocolate calories.
Address
Hours
Wed: 5 pm – 9 pm
Thur: 5 pm – 9 pm
Fri: 5 pm – 10 pm
Sat: 5 pm – 10 pm