The South Bend Area MLS  records show that in May 2010:
285 residential properties were sold
208 residential properties went under contract
471 properties were newly listed or re-listed for sale (that is not a count of all homes for sale, just those listed in May)
The 285 sales add up to $35.58 million in volume. That is about 29% greater than the sales volume for April 2010 and 33% greater than the sales total from a year ago in May 2009.
Sales Prices
The high price sale was 11192 Pierce Road in Wakarusa, a farmhouse on 78 acres which sold for $680,000. For homes without such substantial land value, sales peaked at  $607,000 for 51285 Shannon Brook Court in the Shamrock Hills neighborhood of Granger. The home was listed for sale for $761,250 in August 2009 and previously sold for $725,000 in August of 2006 and $565,000 in February of 2003. Shamrock Hills also had last month's high priced sale.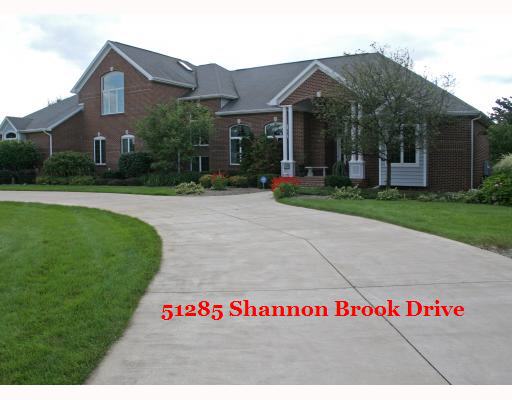 Other high price sales included 18230 Gilmore Drive in South Bend's Bradford Shores, at $580,401 and three sales in Granger's Woodland Hills:
16771 Orchard Ridge at $500,000 with $5,000 in seller concessions
51410 Hidden Pines Court at $465,000
16795 Woodland Hills Drive at $465,000
That is substantial activity for the neighborhood of about 100 homes and more sales than Woodland Hills saw in all of 2009. Woodland Hills currently has nine homes listed for sale, priced from $385,000 to $1.89 million.
There were nine sales under $10,000 and 51 sales under $50,000.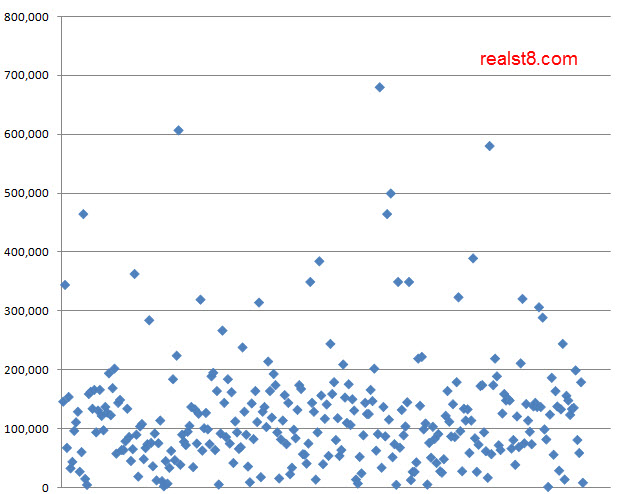 Financing
FHA loans again accounted for the greatest number of sales though conventional financing accounted for more than half of the sales volume for May. Cash sales were a significant market force, and VA loans and other financing continue to play small roles in sales through the MLS.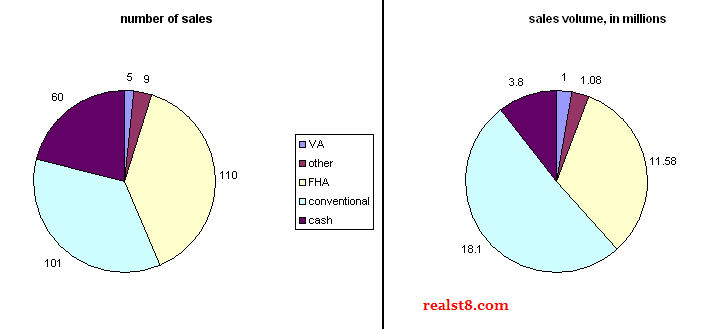 Notre Dame Area condos
The Notre Dame condo market remains soft on sales, though interest seems to have increased compared to past months.  There were four notable sales:
1407 Oak Hill Drive sold for $135,000. It was listed for sale in April of 2009 at $184,900 and previously sold for $143,500 in February of 2005 after trying asking prices as high as $235,000. It is a first floor plus finished lower level unit with 950 square feet on each floor and four total bedrooms (including the lower level) and 3 baths.  It was updated with granite counters and bamboo floors, and had a deck and garage.
18418 Killeen Court at Ivy Quad sold for $385,000. It is the mid-sized unit at the complex, "the Ardeen." It is a newly built 2,800 square foot 4 bedroom, 2.5 bath townhouse.
926 Keenan Court sold for $155,000. It was first listed for sale January 2008 for $175,029. It is a 1,760 square foot condo with 3 bedrooms and 2.5 baths. It was built in 2007 but hasn't been occupied.
5625 Irish Way #7 at the North Douglas Condos sold for $137,900. It is a 1,189 square foot 2 bedroom, 2 bath condo and the first sale in the project since a new investor took control of the development. It is in building 1, which was completed 2007/8.
New Construction
I count eight May sales in the MLS that appear to be new construction (not counting the Notre Dame condos detailed above). Notably,
The most expensive is 18230 Gilmore Drive in South bend's Bradford Shores. Built by Century Builders, the 2,782 square foot + finished lower level 3 bedroom, 3+2 bath home sold for $580,401.
Weiss homes sold four houses, at $166,945, $160,000, $149,000 and $128,432.
If you are considering the purchase or sale of property in the South Bend – Mishawaka – Granger – Notre Dame Area and want a no-pressure, no-hassles consultation with the real estate brokers behind the South Bend Area Real Estate Blog, please contact us.