The South Bend Area MLS records show that in February 2010:
152 residential properties sold
247 residential properties went under contract
396 properties were listed for sale (includes properties re-listed after expiring unsold)
The 152 sales add up to $13.16 million in volume. That is about 37% higher than January 2010 and about 18% higher than one year ago in February 2009.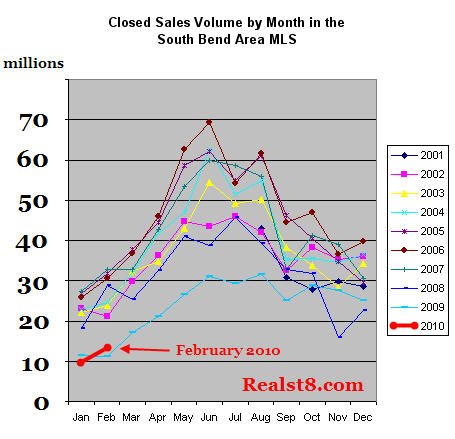 Sales Prices
The high price sale in February was 17564 Nittany Court in Granger. It closed for $462,500 in a cash deal. It previously sold for $530,000 in July 2003. The original list price of the home in April 2009 was $597,000.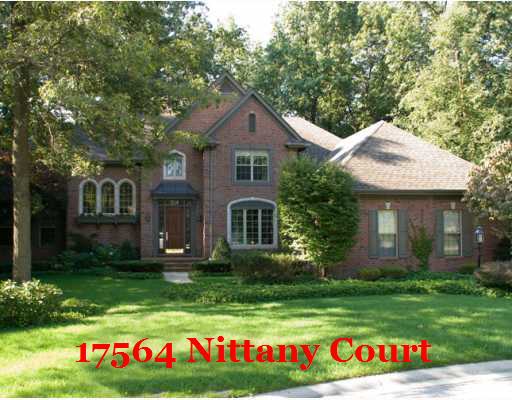 The low price sale was 1106 Johnson Street in South Bend. It sold for $5,000 in a cash deal. It previously sold for $8,000 in January 2007 and $20,350 in May 2004. The original list price of the home was $24,900 in June 2009.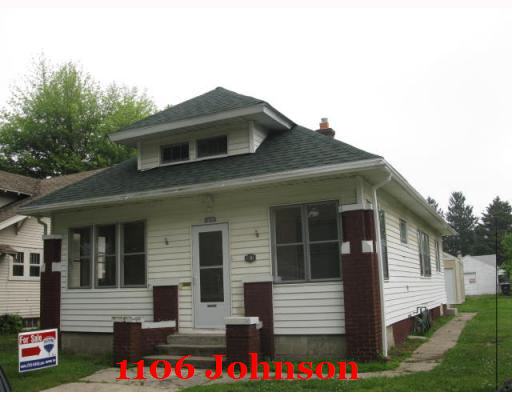 Here are all 152 sales prices, represented visually on a scatter graph: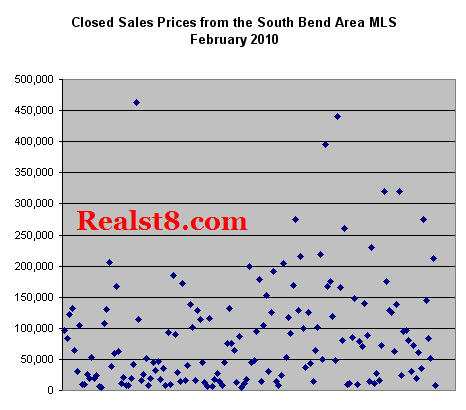 Financing
Cash sales accounted for about half of the transactions by number of sales, but just over one quarter of sales by volume. Conventional mortgages were just over one quarter by number of sales but accounted for 44% of the sales volume. FHA loans were 22% by number of sales and 27% by volume. VA and other types of financing remain rare in the South Bend area.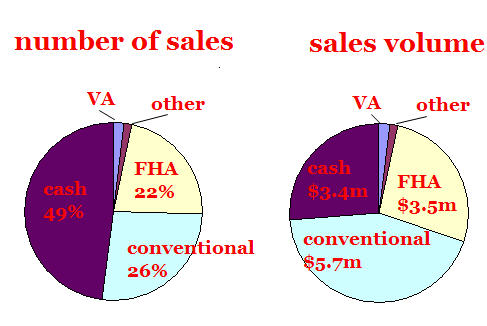 Notre Dame condos
No condo or townhouse near Notre Dame sold through the MLS in February. There were condo sales in The Forest, Topsfield, Somers Square and Sandpiper Cove. Developers, if you sold (closed on)  a Notre Dame property outside of the MLS, speak up in the comments.
New construction
I found data for the February sale of three new homes in the MLS. All were built by Weiss Homes and financed with FHA loans.
11276 Harford Bay Dr in Osceola sold for $190,999 with $16,340 in seller concessions.
19733 Clara Ave in South Bend sold for $184,114 with $10,160 in seller concessions.
23080 Rumford Dr in South Bend sold for $124,999 with $5,000 in seller concessions.
Have Questions? Need Help?
This is the real scoop. It's more detailed, more current, and less mangled than sales info you'll find anywhere else for the South Bend Area. But honestly it's still not good enough to base an informed decision about buying or selling property upon. Even if you are just curious about a certain neighborhood or market segment and especially if you need to make a financial decision related to real estate – call us. We'll talk to you openly and honestly and never lock you in to working with us.