Here are the recent sales recorded in the Greater South Bend Mishawaka MLS (search it here)
January: 148 sales, totaling just over $14 million.
February: 161 sales, totaling about $15.8 million.
Distressed sales, which I'll define as disclosed foreclosures or short sales, are a significant but not overwhelming piece of the market. In these two months they accounted for about 1 in 3 sales and about 20% of the dollars sold.
Here is a scatter graph showing all the sales at a glance.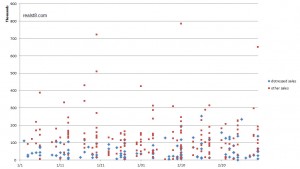 And here is the long term sales graph, which lets you easily compare sales volume to past years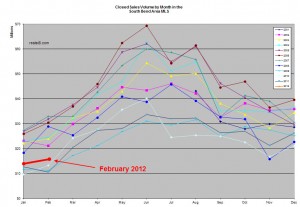 2012 is starting off at a slightly faster pace than the last few years, but until we see numbers for March and April it's not very useful to make predictions for the year. From what I've seen so far this year, it appears sellers who can wait are doing just that. There are fewer new Spring listings than in past years. And while buyers with vision will find many options, there is a shortage of polished, updated homes that don't need any work at all. It's not as extreme as Redfin's Geln Kelman describes in larger markets, but if you have a turnkey home in a popular South Bend or Granger neighborhood, you might be in a stronger position as a seller than you'd think just listening to the news about foreclosures and fraud.
Have a question about South Bend real estate? Put it in the comments or send me a note.