The South Bend Area MLS records show that in August 2010:
234 residential properties were sold
268 residential properties went under contract
495 residential properties were newly listed or re-listed for sale (that is not a count of all homes for sale, just those listed in August. There are 2,459 homes listed for sale in the SB MLS as I write this)
The 234 sales add up to $25.43 million in volume. That is about 3% higher than in July 2010 and about 20% lower than in August 2009.
Here is the long term graph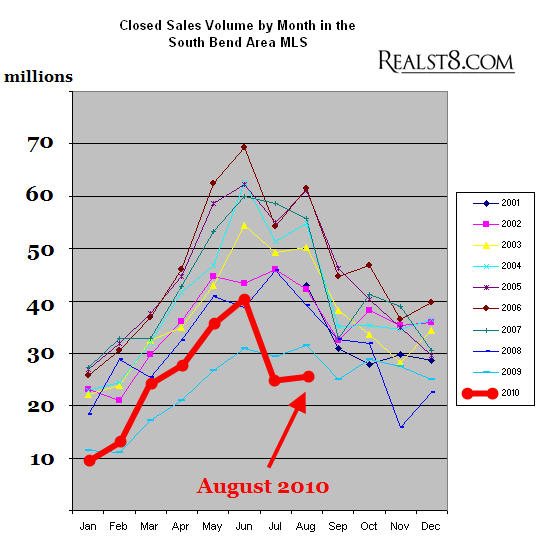 Real Estate Sales Prices
The high price sale for August 2010 was 1222 Erskine Manor Hill in South Bend's Erskine Manor neighborhood. It sold for $550,000 on 8/24/10.
Other high price sales were
522 Kamm Island Place at the Townes at Kamm Island for $491,856
51340 Carrigan Way in Covington Shores for $490,000
51308 Harbor Ridge Drive in Covington Shores at $456,500
1504 Colfax in South Bend at $425,000
There were 16 sales below $10,000 and 86 sales below $50,000.
Here are all the sales prices at a glance
Financing
FHA sales were a smaller but still significant force in the market in August. Cash sales continue to dominate the lower price sales and conventional financing the higher price sales.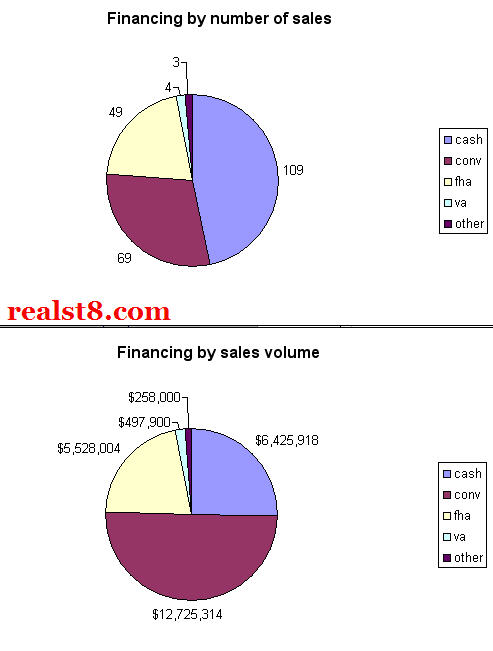 More Questions?
If you are considering the purchase or sale of property in the South Bend – Mishawaka – Granger – Notre Dame Area and want a no-pressure, no-hassles consultation with the Realtors behind the South bend Area Real Estate Blog, please contact us. We're friendly and candid and if we can't help you, we can probably point you in the right direction. Also, watch for more details on sales in niche markets like Notre Dame condos and new construction homes in coming posts, or feel free to ask questions in the comments.