The South Bend Area MLS has closed sale information for 279 sales totalling $31.48 million. That is up from July's figures though still the lowest total sales volume for any August back to 2001. August 2008 registered $39.17 million.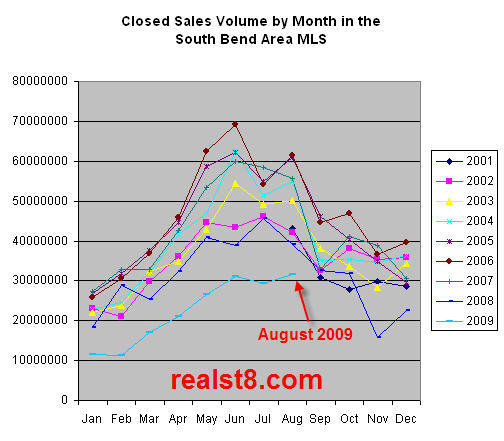 Sales by Price
There were three sales over $500,000 including two over $900,000.
There were two sales at $3,500.
147 sales were between $1 and $100,000
102 sales were between $100,001 and $200,000
30 sales were over $200,000
The median sale was $92,500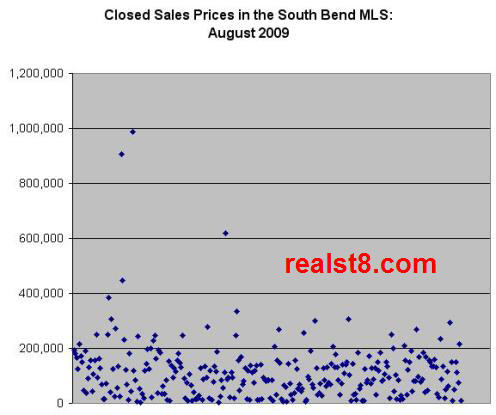 Sales by Financing
Financing remains an issue to watch. Closings are frequently taking longer than the 30 days after contract that used to be common.
108 sales were financed with a conventional mortgage. They averaged 42 days from contract to closing.
79 sales were purchased with cash. They averaged 30 days from contract to closing.
78 sales were financed with FHA loans. They averaged 40 days from contract to closing.
10 sales were financed with VA loans. They averaged 50 days from contract to closing.
4 sales were financed in other ways or did not specify financing.
Condos and Townhomes
Townhomes took two of the most expensive sales in August.
A newly built 5,700 square foot, 8 bedroom, 8 bath townhouse at Stadium Village sold for $905,000.
A newly built 2,722 square foot, 3 bedroom, 3.5 bath townhouse at the Townes at Kamm Island in Mishawaka sold for $445,843
Condos also sold at the North Shore Club (two),  New London Lake and Sedgewick Place.