Here is a brief breakdown of residential real estate sales in 2014 for St. Joseph County  – that is South Bend, Mishawaka, Granger, Osceola, Lakeville and a few other small towns – sourced from the relevant MLS. Those records cover most sales, but do miss a few builder sold new construction properties and a few for sale by owner transactions. Watch for more on those in coming months, but let's start with the MLS data, which has information on the bulk of the sales.
There were 3,185 sales.
Prices ranged from $200 to $1,475,000.
The total volume of sales was $389,367,511.
The median sales price was $101,000
The average sales price was $122,250
That's obviously a huge range and  a lot of sales. Here are some charts to help make sense of it:
All the sales in one chart, by type of financing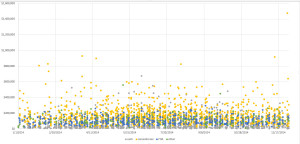 And for clarity, this is the same chart capped at $600k, it excludes the few highest price sales and give more space to the  bulk of the sales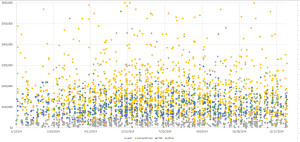 Here are the sales by city/area for the most popular places:
South Bend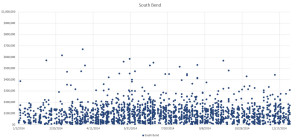 Granger: to $1m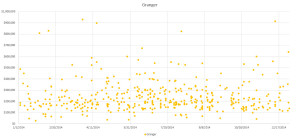 Granger: all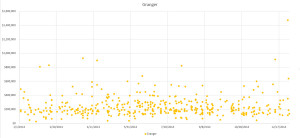 Mishawaka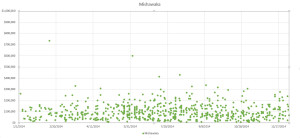 Osceola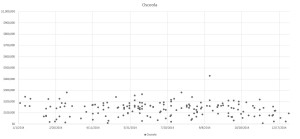 That's good baseline info for anyone looking to get a handle on sales prices in the South Bend – Granger – Mishawaka – Osceola area. I'll post more detail and breakdown these and other facets of the South Bend area real estate market in coming posts. But if you can't wait until then, or need personalized advice, send me a note .