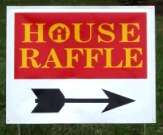 For the last 15 years, the St. Joseph Medical Center has raffled a house as part of its fundraising effort.
They sell 3,800 tickets for $150 each. First prize is a new house, second prize is a new car, and fortieth prize is $175. This year's house is a 2,743 square foot home at 50620 Ryestone Dr. in Granger's Northbrook Shores.
Tickets were available March 6th and sold out on March 8th. The winner will be chosen on May 4th.
For more details, or to be placed on the mailing list for next year's raffle, phone 574-234-0078.