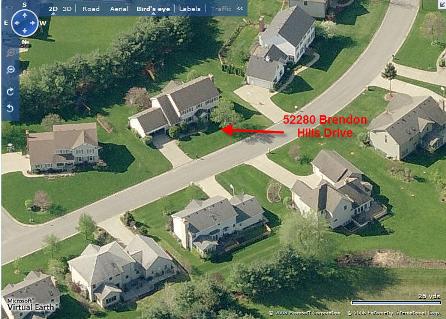 This morning there is just one sale on the local mls "hotsheet" and I think it's worth taking a few minutes to detail it here on the South Bend Area Blog.
It's 52280 Brendon Hills Drive, a nice house, although it doesn't much stand out from the pack. It is exactly the kind of neutral suburban home with broad appeal that has sold well during the recent boom market.
It has 4 bedrooms, 2.5 baths, almost 3,000 square feet plus a finished basement, sunroom and attached 2-car garage. Inside there's a fireplace, 9 foot ceilings and an island kitchen. It was built in 1992, in one of Granger's nicer neighborhoods, Brendon Hills. Realty Trac doesn't show any auctions, foreclosures or other comp-killers in the neighborhood to bring the prices down, so there's no direct reason to think it would be an especially slow sale.
However, here's the sales history:
sold 7/31/1997 for $214,900
sold 3/01/2000 for $215,000
sold 4/22/2008 for $210,000
The owners listed 52280 Brendon Hills Drive for sale 7/7/2007 for $256,000. They sat on the market for over nine months while they tried six different prices and two agents before coming to a price that a buyer found acceptable, and below what they paid for the house.
Even that's not as steep a price drop as their neighbor, 52190 Brendon Hills, which was listed 4/20/2007 for $309,900 and sold 12/21/2007 for $230,450. This neighbor is one of nine Brendon Hills homes that sold while 52280 was on the market. Several of those homes were substantially similar to 52280 Brendon Hills.
Obviously you should limit the conclusions you draw from the sale of a single house, but I think it's safe to say that if you want a quick sale you need to give buyers a reason to choose your home. Make it a deal they can't pass by, or make them fall in love with it. Whatever else you do, make it visible online and viewable on short notice.