Two weeks ago, I posted a poll asking what features people want in a South Bend Condo. We drew 228 votes, and the consensus is that people want:
a balcony, secure parking, a clubhouse, quality materials inside and out, views, private entrances, a downtown location, and a good price. (full breakdown of results)
The common truth that you can't get everything you want, at the price you want, applies here. But in this case, you just might find, you get what you need in your South Bend / Mishawaka condo.
Winner: River Point condos have two large balconies overlooking the river, East Bank Trail and downtown.
Runners up: Irish Crossings, North Douglas, North Shore Club, Stadium Club, and Townes all have serviceable outdoor space.
Secure Parking:
Winners: How do you distinguish attached garages? Ashbury Park, Dublin Village, Erskine Manor, Irish Crossings, River Point, Wexford Place, Townes at Kamm Island and Stonebridge all have them.
Clubhouse:
Winner: Stonebridge offers residents a large, gorgeous clubhouse with billiards, tv, fitness room and pool.
Runners up: North Douglas has a well decorated clubhouse, fitness room and (soon) a pool.
Also rans: New London Lake, North Shore Club, Oak Hill, Topsfield, and Woodbridge have clubhouses.
Partial brick construction: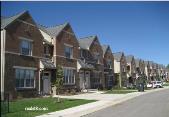 Winner: tie between River Point, which is all brick and Irish Crossings, which is the most attractive overall.
Runners up: North Douglas, Wexford Place, Stonebridge.
Modern upgrades inside:
Winners: Irish Crossings, Townes and Stonebridge, all are new construction with many upgrades available
Runners up: some units at Oak Hill, Wexford Place.
Views:
Winner: Townes at Kamm Island has great views of the river and many windows.
Runner up: North Shore Club has many units with water views, at a much lower price than Townes.
Also rans: River Point, Woodbridge
Private Entrances:
Winners: Every condo with a private attached garage, see our secure parking winners above.
Also rans: North Douglas, Oak Hill and Woodbridge have private doors.
Downtown Location:
No contestants. River Point is the closest.
Under 150k:
Winner: Topsfield is the best value in South Bend condos, and in a posh neighborhood too.
Runner up: North Douglas, best value in new construction
Also rans: East Jefferson, New London Lake, North Shore Club, Somers Square, Stadium Club and Woodbridge.
Want to know more about any of these complexes? Visit the South Bend Condo Guide.