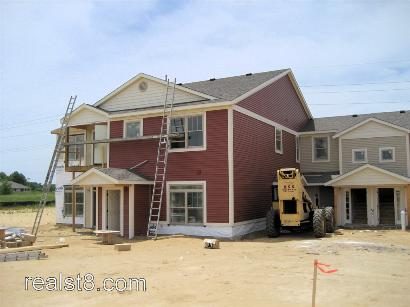 The North Douglas Condos are the Notre Dame area's most affordable new construction condos. They will have 2 bedroom, 2 bath and 3 bedroom, 2 bath condos that run 1,073 – 1,375 square feet and will be priced in the $130's. They are near Notre Dame, Grape Road shopping and dining, and the new St. Joseph's hospital. They'll have a pool, a clubhouse, private entries and smart designs.
Despite this, there hasn't been much of them to see so far. A framed building doesn't lend itself to understanding how the finished units will look, and buyers have needed vision to secure their choice of units based on floor-plans and sample boards.
But the North Douglas construction site is now worth the trip. The first building is mostly sided, so you can see how it will look from the outside, and about half dry-walled, so you can see the size and layout of the rooms on the inside. The clubhouse is taking shape and you can inspect the cabinets in its kitchen, the fireplace in its party room, and the handicap accessible showers in it's poolside locker rooms.
If you are interested in Condos near Notre Dame, or anywhere in South Bend, visit the South Bend Condo Guide to see photos, maps, and details of condos throughout the area. Then, when you want updated news on the completion date of new construction units, or information on any area condo that is tailored to your needs, contact me: Nick Molnar / nick@realst8.com / 574-309-3758.