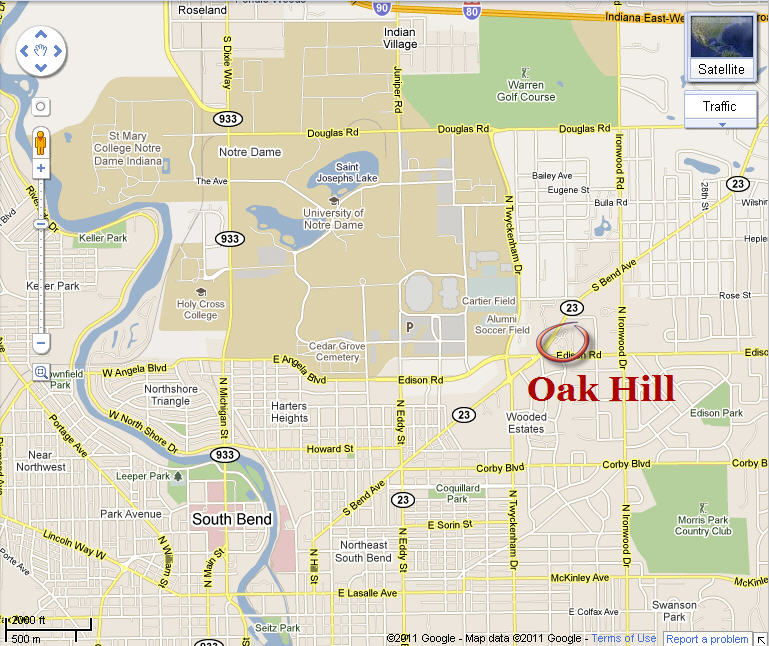 Oak Hill is not fancy. In fact, nearly every other condo/townhouse complex near Notre Dame is bigger, nicer and offers better parking. But Oak Hill is generally the most affordable.  Oak Hill, which was built around 1988, was the the first popular condo complex next to Notre Dame. New London Lake, built around 1978 has age and rental restrictions that prevent it from really appealing to students, Jamison, built around 1984 never gained the same level of visibility and demand, and the other options like North Shore Club (~1971) and Woodbridge (~1972) are further from campus.
And Oak Hill's position as the place to buy if you wanted a condo near Notre Dame was reflected in the prices it commanded.  From 2001 to 2003, prices trended from about $70,000 to about $90,000. In 2004 they entered six figure territory. By 2006, sales were commonly above $150,000 and a few units sold above $180,000. In March of 2008, one Oak Hill condo sold for $230,000.
But many new maintenance-free communities have developed near Notre Dame:
Dublin Village, about 2005/6
Wexford Place, about 2007
Irish Crossings, first sales about 2007
North Douglas Condos, first sales about 2007
Keenan Court, first sales about 2007
Stadium Village, first sales about 2008
Ivy Quad, first sales about 2009
Champions Way (at Eddy Street Commons), first sales about 2010
Those new options, combined with upscale rental apartments now available at Irish Row and The Foundry at Eddy Street Commons, have  put tremendous pressure on the prices at Oak Hill. In 2010, there were four sales, from $125,000 to $145,000. There are currently 11 Oak Hill condos listed for sale with Realtors, 10 of those are priced between $117,000 to $149,900.
The eleventh Oak Hill condo currently for sale  is noteworthy: 1525 Oak Hill Drive recently cut its asking price to $99,900. That's the first time a price at Oak Hill has dipped below $100,000 since May of 2005 when one condo listed for $90k sold for $84k and another listed at $93k sold at full price. 1525 Oak Hill Drive has been for sale since March 2008, when it was priced at $189,900.
1525 Oak Hill Drive is not in bad shape. Here are some candid photos I took today. In its fair condition, the price is a significant test for Oak Hill. There is a place within the broader Notre Dame market for affordable condos. But the price that will quickly sell an Oak Hill condo hasn't been found. With price cuts like this, we should find it this Spring.