There are five developments near the University of Notre Dame that offer recently-built, high-end condos or townhomes. Reflecting the best traits of a competitive market, each boasts a different blend of attractive features and not-so-nice details. One has a large deck but the parking situation is poor. Another has gated parking but the units are shallow so the kitchen is on a different floor than the main living space. With every condo, you trade features… even if it's no more than the classic trade of price for size.
Since each person has different priorities, there is no single "best" condo for everyone. But Irish Crossings Delaney units are a must see for anyone considering a Notre Dame condo in the $300,000 to $500,000 price range.
The arguments for Irish Crossing's Delaneys are simple and strong:
These are large spaces. At 2,610 square feet with 4 or 3 bedrooms and 4.5 baths they compare favorably to the competition.
Parking is great: they have attached 2-car garages and two additional parking spaces in the drive.
They overlook a water feature with two fountains. Irish Crossings is not as densely built as many other complexes, leaving space for a scenic water feature.
There are only three units per building, creating more end units and fewer shared walls. This adds to privacy and lessens noise from neighboring units.
They offer two outdoor spaces: a deck off the kitchen and a patio off the lower level. Compare this to another complex where if you want to tailgate, you need to do it in the garage, and then have to find alternate parking outside of the development.
And, in my mind, most compelling of all…You don't enter to a staircase. Townhomes are designed to have a minmal footprint, that's why they are built where land is expensive. And, at most Notre Dame townhomes you enter into a stairwell. In one, you even climb a staircase to reach the front door, then enter into another stairwell to reach the living space. The difference is important not only in the total number steps climbed, but in the feeling you get when you open the door. Compare the photos below, each taken within steps of entering. Which do you find more welcoming?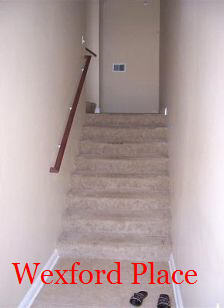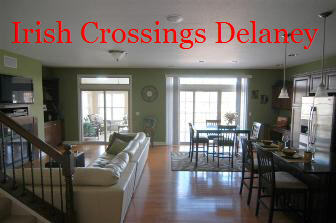 Once you evaluate the options, if you decide you want an Irish Crossings Delaney, you currently have three options:
The builder's model unit, site 231. Priced at $467,826.
An unfinished unit, site 221.  Likely price, $400,000 to $480,000, depending on the options and upgrades you select. This unit is roughly two months from completion.
54662 Irish Crossings Lane, site 183. Priced at $420,000 with nearly every upgrade the builder offers.
editors update:  As of 07/19/2010 sites 231 and 221 are under contract and off the market.
And of the three, 54662 Irish Crossings Lane is the best buy. The current owners bought it in February 2008 for $472,144. That was the second most expensive sale in Irish Crossings. The price was high because the townhouse is posh with $100,000 worth of upgrades:  it's an end unit with a sunroom, fireplace, lower level wet-bar, entertainment systems on the main floor and lower level, granite counters throughout, wrought iron balusters on the stairs, upgraded cabinetry in the kitchen, custom wood floors, and much more.
Past that, the sellers put over $10,000 in furniture into 54662 Irish Crossings Lane and can sell it furnished.
54662 Irish Crossings Lane is on the completed side of the Irish Crossings complex, so you won't live next to construction. It's finished and furnished so moving in, or preparing it for periodic use will be painless. And there is no risk that it won' be completed by the first home football game.
If you're in the market for a luxury condo near Notre Dame's campus, you should see 54662 Irish Crossings Lane. Start with the slideshow below, then call to see it in person.