A South Bend land developer has announced his intention to build moderately priced townhomes downtown South Bend. David Matthews, developer of Ivy Quad, and formerly associated with Keenan Court, spoke before South Bend's redevelopment commission about his proposal for the the roughly one acre piece of land north of Colfax Avenue at the river. This lot is commonly known as the "Rink site" because it was formerly the site of Rink Riverside Printing.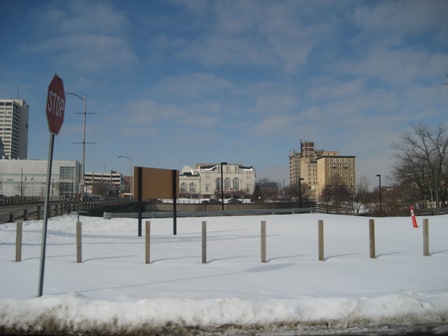 David Matthews stated his intent to build ten or eleven townhomes, eight with river views and two or three set off the river. He said they would be 1,680 square feet with 2-car garages and prices would start around $170,000. He said he has verbal commitments for two of the units, though at higher prices due to upgrades the purchasers selected. The lower priced of the pair is "under $200,000."
The contract for the land is not final, but is for $10,000 and stipulates that the developer won't request a tax abatement for the project. It also gives the developer 36 months to complete construction. When asked about this timeline, David Matthews said he intended to have completed townhomes on the site by this Fall. He said he will first build three: a furnished model and the two he has pre-sold.
The  terms are very different from those the last interested developer received. Place Builders, who planned to build eleven townhomes on the site priced from $400,000, was to pay $150,000 for the land. They never began construction and their $15,000 deposit was returned at the redevelopment commission's last meeting on February 5th. Here is WNDU's story about that project's approval in September of 2008.
I'll post updates on the Rink Site's progress as it occurs. If you have questions about South Bend condos, put them in the comments, or contact me directly if you prefer.
{ 17 comments }