2010 was a tough real estate year for many people. Sales volume in the South Bend MLS was down from past years and home prices were under considerable downward pressure. Several developers or builders folded.
But don't believe the "sky is falling" media reports. South Bend is neither Las Vegas nor Miami. Though prices have fallen, if you bought early or bought "right" you may in better position than you think. And if you are buying now, there is more to making a smart purchase than repeating "offer them half of list price" until someone accepts.  Some neighborhoods and types of homes have held their value, while others have struggled.
This month, I'll take a look at what did and didn't sell in 2010 and try to present some general analysis of the real estate conditions in South Bend, Mishawaka and Granger, Indiana. Please remember these are overall numbers and broad generalizations. As with any financially significant decision, before you buy or sell property you should do your homework or get help from someone who knows the market  (for many of you reading this, that would be me).
Here is the 10,000 foot view, total sales numbers and scatter graphs that show every sales price at a glance.
There were 2,785 sales recorded for 2010 in the Greater South Bend – Mishawaka MLS, with a cumulative total of about $295.76 million.
Here is the long term graph of monthly sales totals: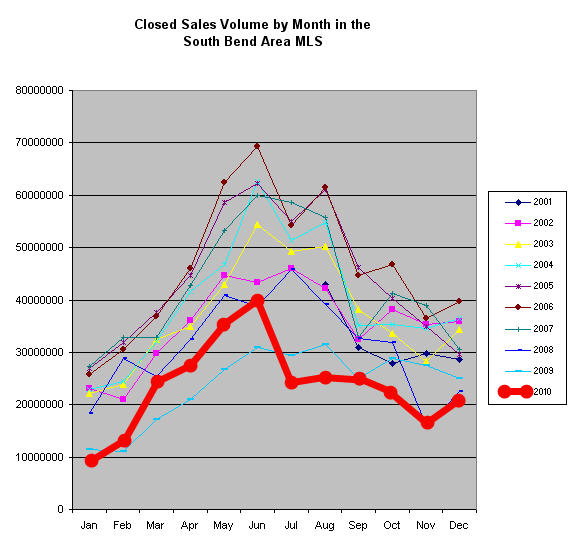 Here are all the sales prices at a glance (each dot represents one sale):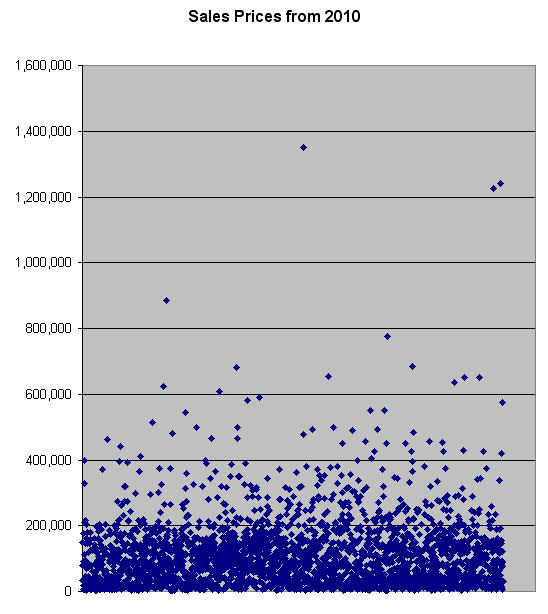 For clarity, here is the same graph excluding the four sales over $700,000: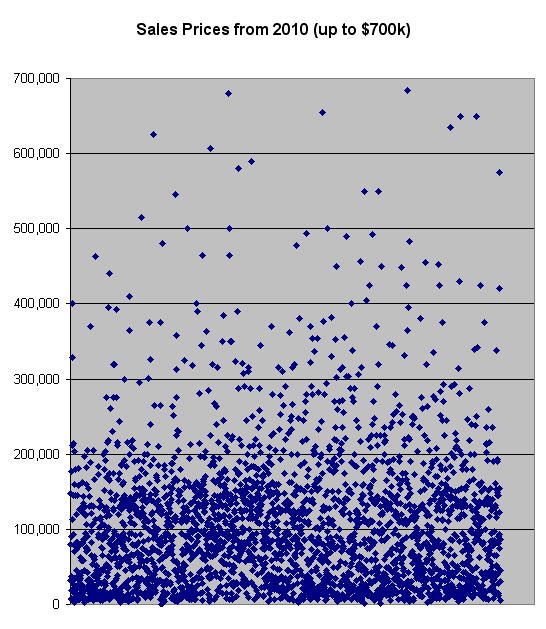 And here it is again with the sales arranged from least to most expensive. This best illustrated to me how many of the sales took place in various price ranges: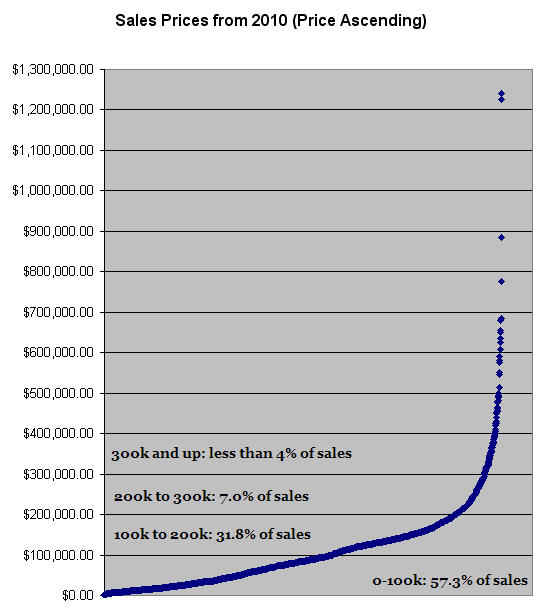 There was an average of 7 sales every day and almost $300 million sold during the year. Nearly 90% of the sales occurred at or below $200,000.
If you liked this post and want to see more like it, add http://www.realst8.com/ to your feedreader, subscribe to our e-mail updates, or check back frequently for more on 2010's high price sales, condo sales, comparisons to past years and to see what didn't sell.
{ 2 comments }