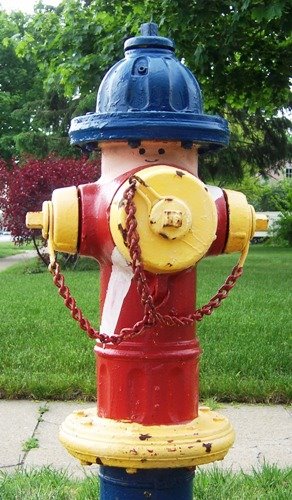 The city of South Bend claims 4,928 fire hydrants. Since 1974 it has offered free paint to those willing to apply their creative talent to these fireplugs by painting them according to designs created by local artist Ruth von Karowsky. Her designs were developed for the Bicentennial celebration in 1976 and consist of 35 choices, each a historically significant figure of the American Revoultion.
Anyone can participate, and the project has been helped by groups of retirees, the John Adams High School Student Council, neighborhood associations and individuals. To get your paint, you should know what
style
of hydrant you are dealing with, and which
design
you want. The Mayor's office invites everyone to look beyond George Washington and Ben Franklin to the depth of their choices, which include Crispus Attucks, Israel Bissell, Casimir Pulaski and Comte D'Estaing.This year's paint kits should be ready by May 20th. You can contact Mikki Dobski (235-5855) or Jennifer Jackson (235-7590) at the Mayor's Office to reserve your kit.