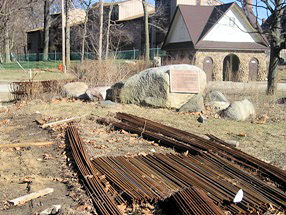 Nestled behind the expansion of Mishawaka's Wastewater Treatment Plant in Lincoln Park is a monument of strategically placed rocks and boulders. The largest boulder sports a plaque detailing Princess Mishawaka's history and her burial somewhere near the monument.
It sounds like a nicely executed tribute to the city's namesake. The problem is that the monument seems to have been forgotten by the city. Not only is there garbage and knee-high weeds all around it, but the construction crew for the aforementioned expansion is using the space around the monument as a holding ground for piles of metal and other construction materials.
So why is this monument of a grave site being so poorly cared for by the city? The reason can't be that it's not seen from other city-maintained property and therefore forgotten. Standing at the monument, you can clearly see the end of the river walk path with manicured landscaping. And the site is also just moments from the Mishawaka Parks Department – a collection of people with landscaping knowledge and the tools to assist.
The park's website does mention that the expansion of the Wastewater Treatment Plant is temporarily consuming the park, but there has to be a better balance between slacking off during expansion and outright disrespect to its Princess.